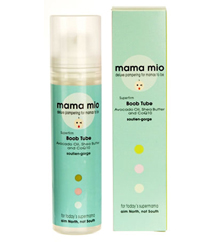 I've had a few queries recently about how to go about getting a decolletage that's divine.
Summer's a comin' and we're gonna be getting those chests out - and I know some of you gals are worried about the auld lines and wrinkles. Others want to firm things up a bit, but what will actually work?
I think I know. Smart gals are turning to luxe pregnancy brand Mama Mio for their expert help. As Mama Mio themselves say, and I wholeheartedly agree, "gravity sucks". They recommend that you invest in some of their Boob Tube cream, which is "a cream version of the wonderbra" which will leave "your boobs firmer, softer, toned & taut". How the feck does it do that so?
It's full of omegas to help build the strength and elasticity of delicate skin, and it's also full of natures best skin savers (Avocado Oil, Evening Primrose Oil, Rosehip Seed Oil, Olive Oil, Sweet Almond Oil) to which those clever peeps at Mama Mio have added CoQ10 (an amazing antioxidant that helps increase cell regeneration and prevent collagen degradation) and Shea Butter. Aha, that all makes a lot of sense - this stuff will uber-hydrate stressed, dry skin, while helping to prevent the dreaded stretchmarks and improve the general tone of your boobs - and all that's gotta be good news, eh?
Advertised
You'll pay a mere €36 for this non surgical wonderment and you can phone 01 4610645 for stockist info.