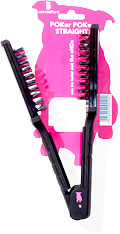 Ema contacted us to say "I have just seen a brill new product in Look magazine. It is the Lee Stafford Poker Poker Straight Ceramic Brush. You clamp it around your hair and you can straighten your hair whilst blow drying. It will be revolutionary for fellow ladies like me who are unable to blow dry your own hair and sick of split ends from the dreaded GHD!!!
It's at a novel price of £8.95 but I searched the web and can only see his own shop but its out of stock.
Could you shed any light on this?"
Advertised
Of course we can! Lee Stafford isn't the only person to have come up with this idea at all at all, and in fact we blogged about Denman's version way back in December. It's available in chemists and you'll pay about €14.50.