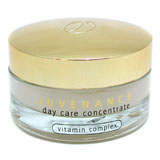 Ok, you'll all have to stop flitting around the world and falling in love with the exotic beauty products you find in far flung climes! And then not being able to get them back on the auld sod.
Not to worry, I love to hunt them down! A high quality Juvena day cream, purchased in Dubai, left its owner inconsolable when the jar was empty and she was unable to get any more. But I think I've found it for her - and at a 28% discount.
Advertised
Juvena Juvenance day care concentrate is available on StrawberryNET.com for just €36 . Happy days!