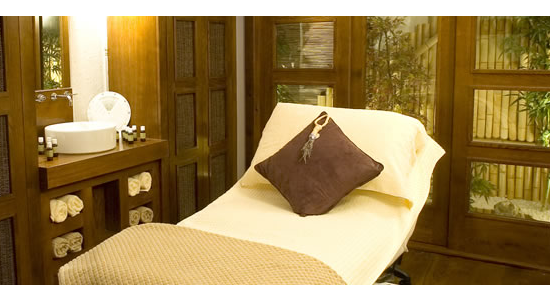 I was down in Cork last weekend with some pals for a jolly, and we stayed at the Imperial. It's one of the city's older hotels and while that's unfortunately showing in some parts of it - our room was a little tired looking  - the Escape Spa is actually nothing short of stunning. Circular in design, it has one of the chicest thermal areas I've seen, and only eight treatment rooms ensure its exclusivity.
It's always a surprise when a hotel and spa just don't 'match' - the Cloisters at Muckross Park Hotel is another - but it's also quite nice: it adds an extra dimension you might not be expecting. I've heard a lot about this particular spa over the years - it's an Aveda location - and naturally enough, I booked myself in for a treatment. "Ah sure I might as well", I thought, adding in my head the self-satisfied qualifier, "and oh, I am so smart and multi-tasking, too."
My cleverness got a bit of a land when I copped that a 10am treatment the morning after a heavy night might not be such a good plan. Ok, it's a really bad idea. After finally hitting the hay at a million o'clock after approx 45,000 whines, I then proceeded to wake up on the hour, every hour, for fear of a) having a hangover and b) missing my appointment.
It was a pretty grumbly me who stumbled through the corridors to the spa reception area the next morning.
Thankfully everyone was very nice (I could not have coped with stress), bright lights and noise were kept to a minimum - plus I was in for a body treatment, so I knew I'd get to collapse again soon enough. Changing into my robe and slippers, I was led to the circular relaxation room where I lay prone until I was fetched.
Advertised
A warm foot bath and scrub kick off the Rosemary Mint Awakening Body Wrap, and then, thanks be to Jaysis, I got to lie down again while I was subjected to an exfoliation with a dry glove. This has the potential for a lot of ouches - I tend to prefer my body scrubs with oil, but actually it was just tingly, so that was fine - plus the action felt like it stimulated circulation too. Right to my liver, I was hoping.
Next up was something that I really liked: body bits were uncovered one at a time and sprayed with a cold toner and then rubbed with warmed lotion - an odd sensation, but I could imagine that it was effective in that the cool spritz would have quickly closed pores, and the warm cream would  improve blood flow to the surface of the skin. Worked for me, anyway!
Once all wobbly bits had been tended to, I was wrapped up in mountains of covers and left to doze while my feet got a massage. They were bundled into steamy warm towels and re-covered (oh God, this bit was great), and then it was onto my head. Big apols, therapist lady - I hadn't washed my hair and I did feel a bit guilty about that, especially as it smelled delightfully of fag smoke and beer.
An hour and fifteen minutes of pampering later, I was done, and while I didn't feel ZINGY and ZESTY, this did do the trick hangover-wise. I felt fine - headaches were massaged away, the rubbing had helped with lymphatic drainage and I did feel better. Of course this is Aveda, hangovers are a no-no and the treatment was definitely not created with that in mind. It's a nurturing, relaxing therapy that's designed to stimulate and pamper.
But here's a heads-up, Aveda-peeps: this is Ireland. On a bank holiday Sunday morning at 10am, this is what you'll be dealing with: whey-faced hungover yokes with faggy hair, and so in that case, I am glad to report that the Rosemary Mint Awakening Body Wrap did the trick just fiiiine.
Advertised
The Rosemary Mint Awakening Body Wrap is €95 at the Escape Salon & Spa, Morgan Street, Cork, Ireland, 021 730 6622; www.flynnhotels.com/Imperial_Hotel/
*I know, I know.  Terrible, terrible pun