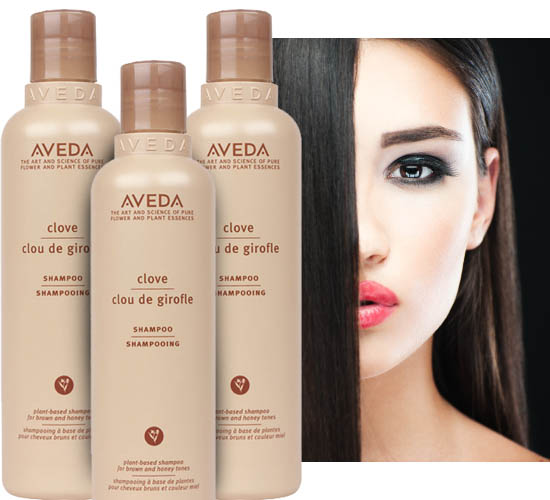 I'm not really sure why I stopped using Aveda Clove shampoo. I think I suspected it wasn't helping my itchy scalp, so I moved onto something else, and the half-used (30th anniversary limited edition, if you don't mind) bottle was left to gather dust on the bathroom shelf. Fast forward a few years and again I was tired of what I was currently using, so when my eye fell on the dusty bottle of Clove shampoo, I thought I might as well give it a whirl.
Aveda founder Horst Rechelbacher's first ever product (developed, as legend has it, in his own kitchen sink), Clove shampoo has been on the go for thirty-plus years at this stage. They briefly discontinued it, which really disappointed me at the time, only to bring it back in limited edition for the 3oth anniversary of its creation and then happily added it back into the permanent line-up. Formulated with clove, which detoxifies as well as enhancing honey tones and coffee to enrich brown hues and provide astringent benefits for the scalp, Clove shampoo is recommended for brunette and honey blonde hair.
If the idea of a clove-scented haircare product doesn't appeal to you, then you'll be glad to hear that Clove shampoo is actually fragranced with a lovely almond scent - something like amaretti biscuits, actually. Yum. It looks like a dark honey when you squeeze it out of the bottle and it lathers nicely when applied.
Advertised
It does a very good job of cleansing my hair, and while at first I was worried it might be overly hard on my sensitive scalp, I realised after a few uses that the astringency was actually helping my scalp a lot more than the previous sensitive scalp-specific shampoo I'd been using. I've also found I need to wash my hair less frequently and although I only use conditioner once a week, my hair does not seem to be suffering any dryness - in fact it looks very healthy and bouncy, with far less frizz than usual.
Because this is a colour-enhancing product and not colour depositing (there are conditioners in the range that deposit colour), this isn't going to have a drastic effect on the colour of your hair, but it does seem to work to give my natural brunette hair a nice warm tone and subtly enhances my natural highlights. And I might be imagining it, but the grey hairs I've been too lazy to worry about don't seem to stand out quite as much to me at the moment.
And never fear if you're not a brunette; Aveda also has Blue Malva, Black Malva, Camomile and Madder Root offerings for all the other colours in the spectrum.