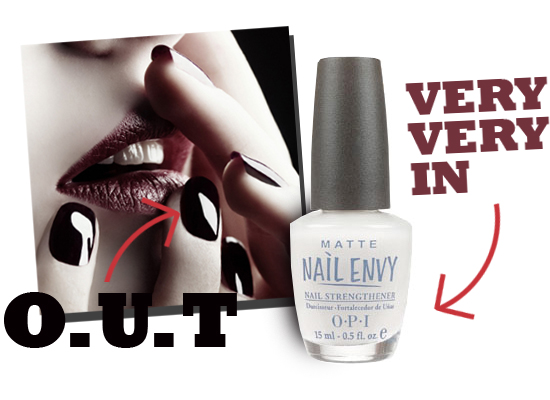 If you're gearing up for the switch to AW 2009/10 beauty, be advised that matte is the new black where next season's nails are concerned. OPI were wicked quick off the mark, launching a range of six iconic shades including Russian Navy and You Don't Know Jacques in matte finish formulations away back in July. (Yes, I know it was only last month but it feels like feckin' ages ago now!)
So now that lovely high-shine finish polishes have been deemed hideously unfashionable, what's a gal to do? Repurchase all her favourite shades in a matte version?
Well sure, if you've a dedicated nail varnish storage hangar and maybe a dedicated paid-for-by-someone-else nail varnish credit card.
Advertised
Me, I'll be cheating and just be getting one new bottle o' paint - a matte finish clear polish like Nail Envy Matte by OPI (€21.50 from HQhair, who'll give you 15% off orders placed before midnight on Saturday when you use the code "CELEBDISC" at checkout... or $8.50 from 8ty8beauty) or Essie's new Matte About You, which my sources tell me will be on counter shortly.
Is this a trend you'll be trying out yourself, or will you be giving matte a miss?