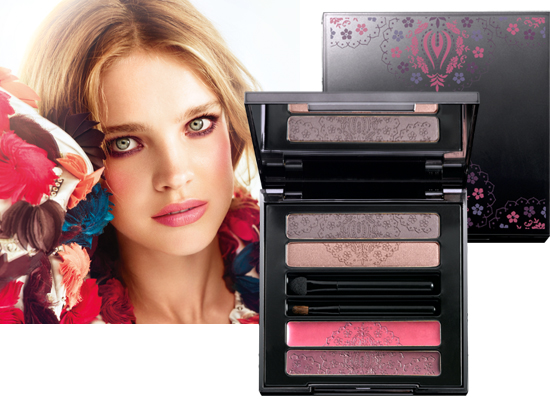 From Moscow with love - think matryoshka dolls, onion spires and model and muse Natalia Vodianova: all inspirations fueling Guerlain's creative director Olivier Echaudemaison, in his development of the forthcoming Slavic Beauty autumn / winter collection.
It's very pretty  - of course it is -  because this is Guerlain, and everything they do is pretty much gorgeous. Elegant, fabulously plumed, the star of the show is the limited edition Volga Princess Eyes and Lips Palette, €62. Two taupe eyeshadows are complemented by rosewood and sparkling pink lip colours, with the lot embossed in a pattern derived from Slavic art.
Want to see more? Check after the cut!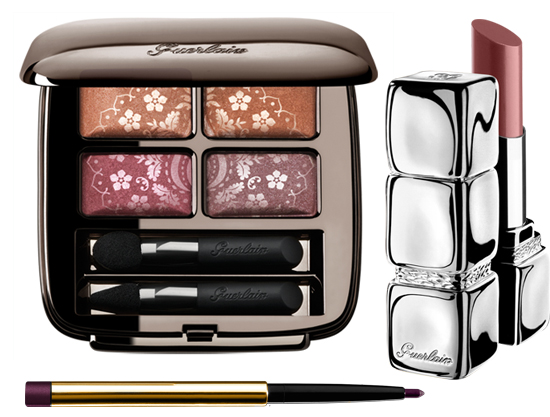 Above top left is Ombre Éclat 4 Shades in 406 Tsarina, and it's €50.21. Like its immediate predecessor in the spring summer collection, it's so adorable I wouldn't be able to bring myself to y'know - USE it. It's limited, but the baby beside it, KissKiss Baby Nourishing Lip Balm with SPF10, will stay on counter permanently. Six shades of wild mango butter and luffa oil-enriched balms are on offer:  200 Cristal, Nude220 Red Nude, 240 Honey Nude, 241 Rosewood Nude, 260 Romantic Nude and 261 Rosy Nude. Each is €27.11
Advertised
Bottom left is the Retractable Eye Pencil €24, available in three shades: gold, silver or dark pink, and it's got its own built-in sharpener. Clever!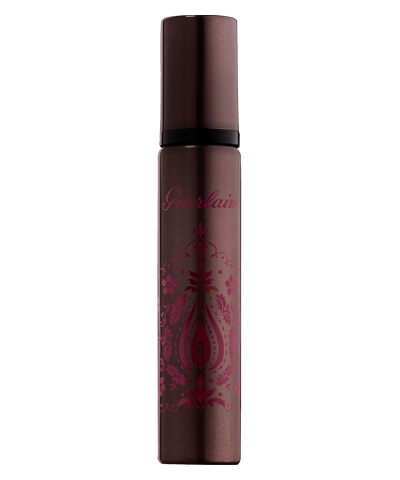 Lastly, lets take a look at the intriguing Russian Doll Radiant Blush €35. It's a liquid, cream-gel blush in a sheer pink - it sounds absolutely gorgeous.
The collection also includes
Rouge G de Guerlain Jewel Lipstick Compact, €38
Le 2 - 51 Nuit 2 Bohème TWO-BRUSH MASCARA
Ombre Éclat 4 Shades - 441 Brun Mordoré EYESHADOW €50.21 (permanent)
Parure - 14 Rose Intense €51.21 (Compact Foundation with Crystal Pearls SPF 20 - PA++) (permanent)