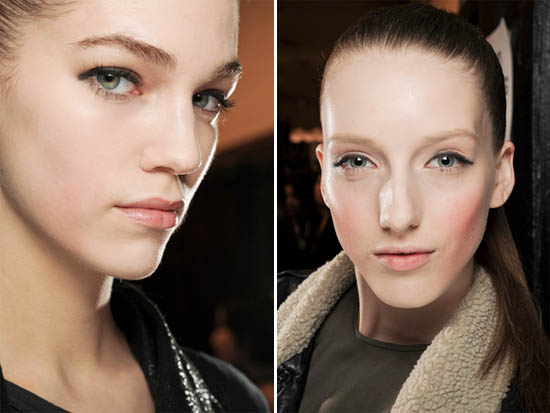 I actually really like it when done properly and subtly, but low-slung blusher received a fairly resounding "HELL no!" from the majority of you ladies earlier in the week. Well, I'm back with another hot-off-the-catwalk look to show y'all - although I have to admit that this is one I'm in no rush to try myself.
Eyeliner, as you'll no doubt have noticed, is Big Beauty News this autumn/winter. L'Oreal and YSL have debuted new black liners for the season, '60s style graphic swoops of jet black along the lashes and in the crease of the lids are a favourite editorial look at the moment, and Dior even released a set of self-adhesive eyeliner decals to coincide with Fashion's Night Out for anyone not convinced of their ability to DIY freehand.
Now I happen to love statement eyeliner, so so far, so good.
Upside-down liner, where the outer edge of the flick follows the natural contour of the eyelid to point down rather than up, is another story altogether. As seen at Marc Jacobs, it's been hailed a fresh, edgy take on eyeliner that supposedly make eyes look larger, but I think it drags the eyes down and mostly just looks like a wildly eccentric lady has made a pig's ear of putting on her make-up.
Advertised
Which, incidentally, is pretty much what Marc had in mind when he came up with the concept for the make-up, but I still don't like it.
Any takers..?
Pix via style.com