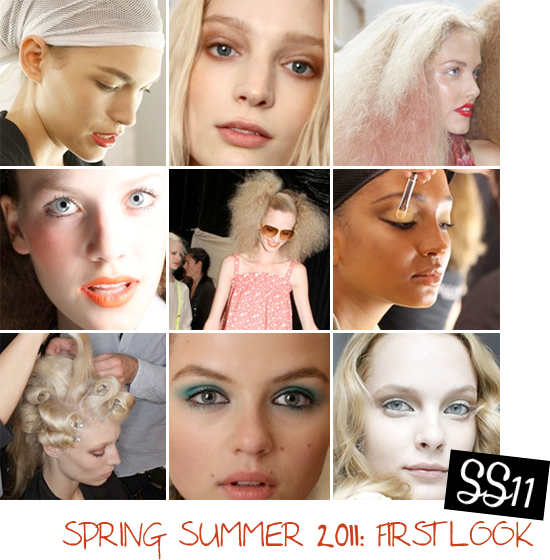 Fashion week's going on all over at the moment showcasing all the stuff the high street'll be ripping off in about three months time and while it's a great opportunity to get some inspiration for the clothes and accessories you're gonna want to buy come the spring, the beauty's a huge focus of attention too.
So while we'll try not to bug you with too many more predictions for 2011 until it actually is 2011, here's a first look at some of the makeup that came down the runways from London and New York. There's nothing wildly new here to be honest, but the one uber-trend that's emerging right now along with all the small micro-trends is a sort of boho-70s-disco vibe with soft washes of colour for eyes and Time Before Conditioner (BC) hair - so the upshot for spring summer 2011 is one lazy-arses can get behind: a relaxed, easy going trend where hair serum and serious makeup skills are banished, apparently. Hmm, wonder how well the former'll go down with the frizz-prone ...
Interested in seeing a little more? We've got a run-down of six new-season trends after the cut.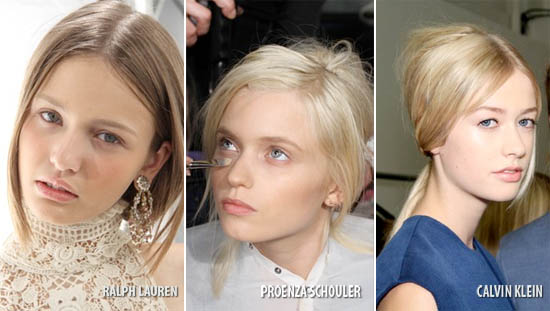 NAKED BEAUTY
There's nearly always a nude/fresh skin trend each SS season and 2011's shows didn't deviate. Pretty, clean skin and very little extra visible makeup's the marker of this look, but of course, you, me and the dogs on the street know just how much product it actually takes to look that flawless, eh? Yes, dear readers: lots.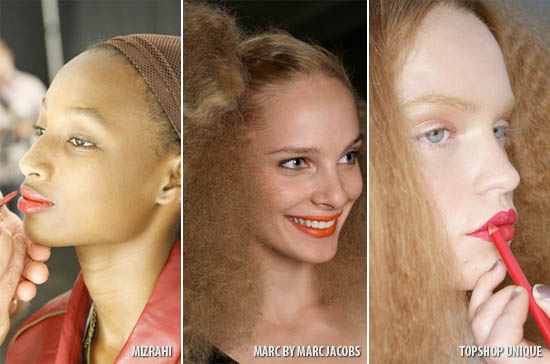 BOLD LIP
Oh, one I'm guaranteed to like - bright lips are in for SS11 and this is one I, er, wear no matter the time of year. Anyway, round about January, expect all the beauty brands to debut lots of nice matte and satin-finished brights and Nars (as is often the way) is ahead of the game, having recently released a new line of matte lipsticks which were used at the Marc by Marc Jacobs show. Expect beauty eds to rave accordingly.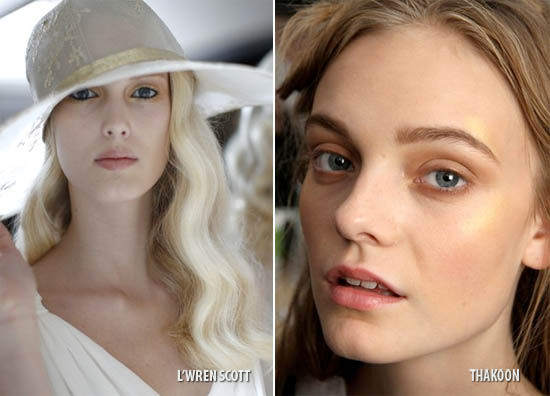 Advertised
SOFT EYE
This relaxed, soft eye and bare lip was seen on a few catwalks and is characterised by pale washes of colour across the lid and below the bottom lash-line too. Really easy and quick to achieve, but my advice is to go more the L'Wren Scott look with a slightly cooler and brighter shade with some kohl definition and less the knackering brown Thakoon used. The model just looks exhausted, doesn't she? Points for highlighting, though!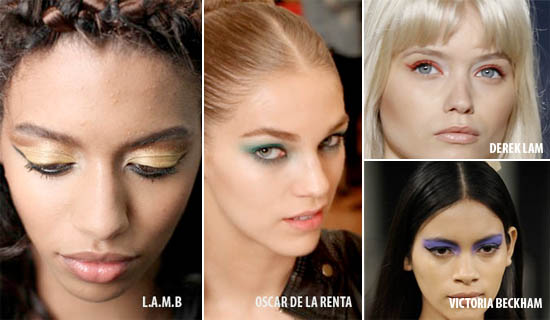 BRIGHT EYE
Just in case anyone feels left out, there's a strong, bold eye look in evidence too.  Gwen Stefani's L.A.M.B models went for a defined, slightly tribal eye (using Maybelline, more on that soon) and I really love Oscar de la Renta's take - a matte aqua green gets a summer smokey twist. This is really wearable. Victoria Beckham surprises with a Charlotte Tilbury-created look  using Lancome and Tom Pecheaux, the makeup maestro got busy at Derek Lam for Estee Lauder.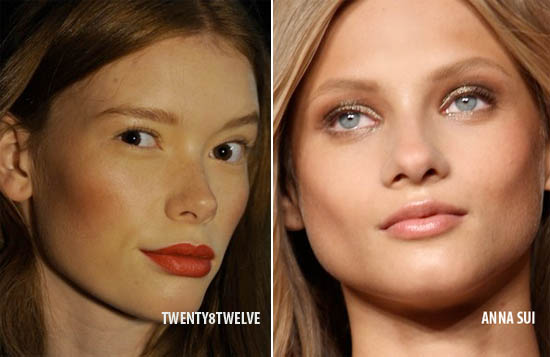 BEACH BRONZE
The Kim Kardashian influence? Lots of contouring, warm tones and bronzer mark this one out and I can see this being a real go-to for summer. Loving the sparkly metallic Anna Sui eye, too.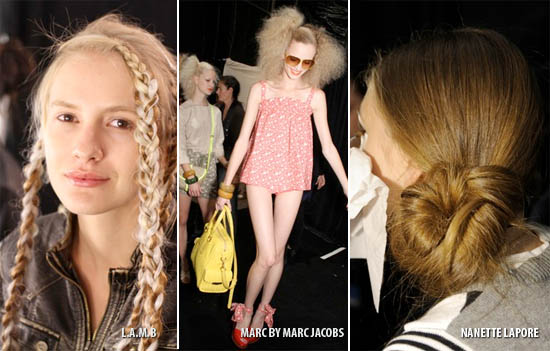 HAIR
Relaxed, low-maintenance, throw it up in an auld plait, forget the straighteners or tie it down in a simple knot's the order of the lazy day. Hurrah! My regular no-matter-the-season approach, so.
Advertised
So, what do you reckon? Anything catching your eye for spring summer?
All pix are courtesy of the very fab WWD.com