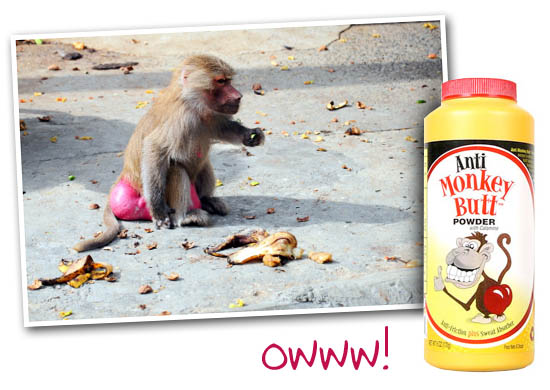 With one eye on Tweetdeck as the other watched telly, something caught my eye and I hastily scrolled back to check that I'd read a tweet from @Anne_ODonnell correctly. Anne is Ireland AM's occasional Twittermom and after she namechecked Beaut.ie on the show recently recently I started following her.
"Good luck to @sineaddesmond and @carmelbreheny with their climb today. Remember to stock up on your antimonkeybutt.com for afterwards!," was the infamous Tweet that captured my gaze.
Can you imagine why, ladies?
Advertised
Antimonkeybutt.com!? What the what, as Liz Lemon might say.
I clicked the link. Turns out Anti Monkey Butt is a charming American product designed to cut down on skin chafing due to exercise or bike riding, and not anything else hideous you might be imagining. A bit like a silicone gel-based product like Lanacane, this is a powder that's made from cornstarch, soothing calamine  and a patented microparticle polymer. You can get burly men and ladylike girlie versions and they cost about $6 - you'll pay extra on top for shipping.
Whaddya reckon? Would you buy?