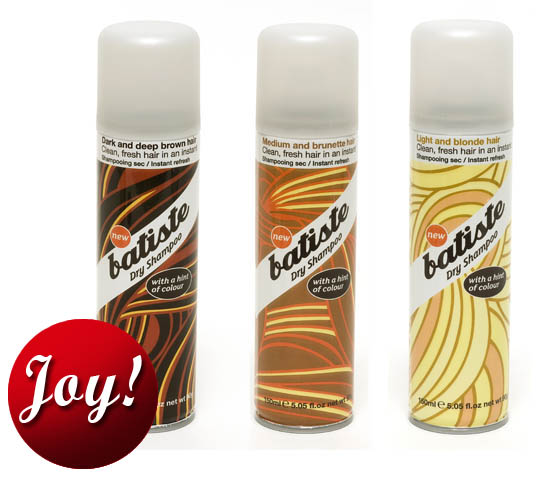 Batiste Dry Shampoo is one of my must-have products and I repurchase it again and again (and again.) It's cheap and cheerful and perfect for refreshing hair between washes when you can't quite be arsed to do anything with it, adding a bit of oomph to limp roots, or taking the slip out of shower fresh hair so that it'll stay put in an upstyle. I'll usually have a full sized can and a mini handbag sized one on the go at any given time, and lately I've upgraded from the original formula to the coloured versions for light/blonde and dark/brunette hair.
I'm all glamour, me.
The blonde one is light yellow and the brunette one is brown, and from first spray it was clear that these are a vast improvement on their white predecessors. They do the same stellar grease-absorbing job but they're far easier to blend into the hair, are less dulling, and don't leave that dusty, prematurely aging residue behind that the white ones were inclined to leave in their wake. They're also better at disguising regrowth.
Advertised
Any downsides? Honestly, I don't think so; the colour certainly hasn't run down my face when I've been caught out in a shower or wound up all over my pillow or anything, although I can imagine that it would stain the skin on the scalp and around the hairline if applied carelessly.
Have any of you tried the coloured Batiste variants yet? What did you make of them?