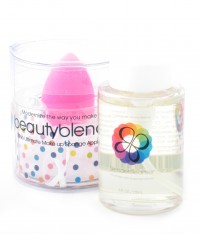 If you're one of the many people who love using a sponge to put on foundation, but conveniently like to pretend the germ factor doesn't exist, then you may be interested in this little yoke I read about in yesterday's Sunday Times 'The Sybarite' beauty column.
It's called the BeautyBlender and it's a specially designed cosmetic sponge which makes putting on foundation a doddle due to its clever contours. And best of all, it comes with its own special cleaning fluid.
Advertised
You can buy the blender sponge and cleaning fluid from The Makeup Foundation, which is a UK site full of far too great makeup accessories and tools, all of which I immediately want to buy. The set costs £24, which is pretty steep, to be fair - you can buy both separately but buying together works out slightly cheaper.