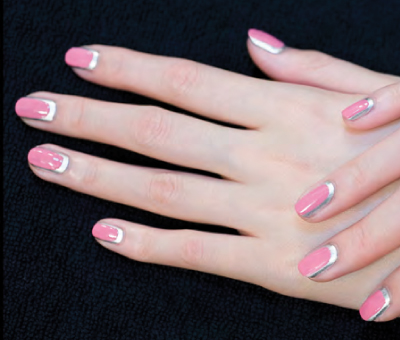 When I first saw the nail look that Peter Philips created for Chanel's AW12 Haute Couture show at Paris Fashion Week, my first thought was "I like it!"
My second: "It looks a bit like the Ruffian manicure."
And my third was "I could probably do that..."
This is Chanel's first venture into nail art territory, somewhere between girly pretty and strikingly futuristic, and happily it's not difficult to DIY. Philips painted nails with Chanel Le Vernis in May from this year's summer line-up before outlining the nailbeds with Silver, a limited edition release from away back in 2007. His technique requires a small brush, a super steady hand, and lots of patience, but feck that - here's my cheat's guide to getting the look at home.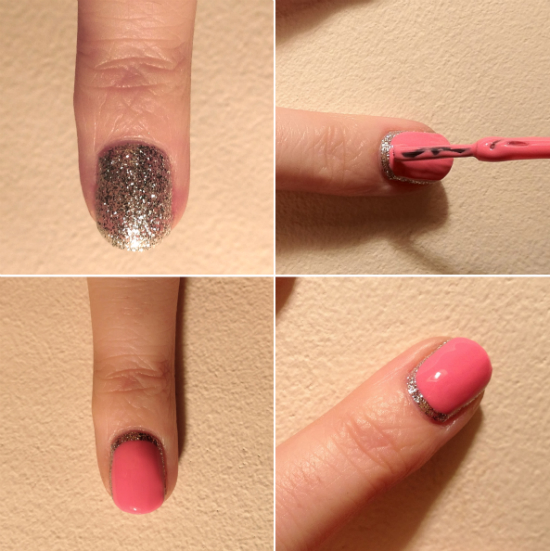 Advertised
1. Apply base coat to prevent staining and extend the life of your fancy mani.
2. Paint nails with a bright metallic silver polish. Somehow the only sparkly silver I had on hand (wah wah) was Barry M Silver Glitter, which did the job but wasn't really ideal as it needed 3 coats to be opaque; the silver from their new foil effects line would have been a better bet.
3. Using the shape of your nail as a guide, paint the central portion of the nails pink leaving a border of silver at the cuticle and along the nail wall. This will likely take two or three strokes as normal - you're basically just painting a smaller version of your nail - but using a wide, round-edged brush like Sally Hansen's Complete Salon Manicure, Bourjois 1 Seconde polishes, or those from Rimmel with an Xpress Brush or Maxi Brush (labeled on the lid) will make the job easier. I used Barry M Bright Pink and it took 3 strokes per nail.
4. Finish with top coat.
For best effect, I'd recommend leaving a larger gap than you think is necessary along the sidewalls; I thought I was leaving acres of space either side of the pink central portion but the effect could definitely have been enhanced if more silver was visible.
Advertised
What do you reckon? Is this a paint job you'd try at home?
Image credit: Chanel via Beauty Hunter