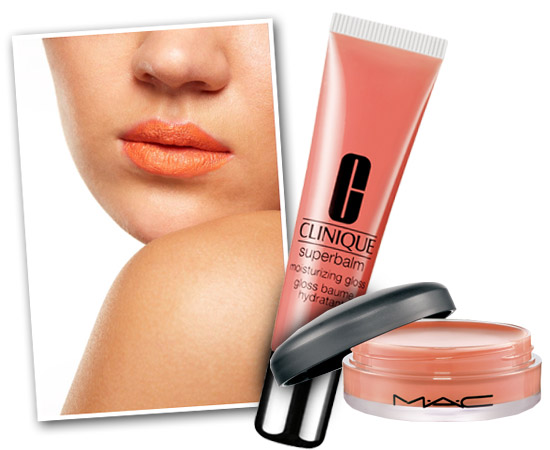 Orange lips are back with with a bang, baby! There's just no getting away from shades running the gamut from peach and coral to full-on orangey red for Spring Summer 2010. But even if the idea of orange lips has you recoiling in horror, recalling tangerine-lipped ladies with blue eyeshadow from the 70s and 80s, don't fret. The great thing about this trend is that there are so many variations - it means there's sure to be one that you'll feel able to work.
Orange lipsticks, glosses and even tinted balms aren't exactly difficult to come by at the minute. If you just want to dip your toe in the trend, try a sheer balm like Clinique Superbalm in Apricot or Mango or MAC Tinted Lip Conditioner in Gentle Coral. They'll add a gentle hit of orange while providing a little non-sticky gloss-like shine. If you'd prefer the coverage of a lipstick or true gloss, Illamasqua or MAC are good bets - while most brands will have an orange or two in their range this season, these folks have about a billion (or, y'know, several) such shades on counter at any given time.
Advertised
Pale-skinned ladies should try oranges with a pink, blue, or yellow undertone, while those blessed with olive or darker skins could also pull off brick or burnt oranges with a brown or red base (something like MAC Morange). And if you're not feeling quite brave enough to go all out with traffic cone orange, shades of coral are probably the most universally flattering way to get your on-trend orangey lip fix.
Get Beaut.ie Delivered
Stay updated with Beaut.ie newsletters full of the latest happenings at Beaut.ie as well as great offers and things we think you might find interesting .