 Even the most die-hard tan lover will concede that there's nothing loveable about it when it starts to fade. Once that formerly golden glow begins to turn patchy, dirty looking, and uneven, leaving you more piebald-y than the Three pony, it's time to take off the lot.
After plenty of trial and error, some specially formulated tan removers, and several attempts at DIY potions involving things like lemon juice, sugar, and bicarbonate of soda, my tan removal kit now consists of an exfoliating glove (from Soap and Glory), a cheap oil (I prefer coconut over baby oil), a great body exfoliator (whatever's handy, currently Clinique Sparkle Skin) and an old towel.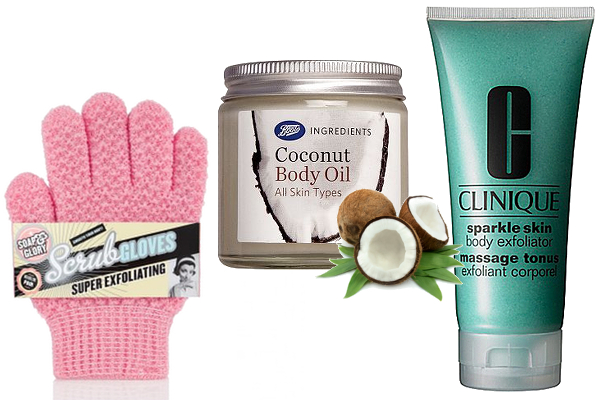 Advertised
Usually a combination of these products and a shower is enough to get rid of fading tan for me, so I'll use an exfoliating glove to rub coconut oil into damp skin to help lift the tan, and then scrub with an exfoliator to remove it. Once I'm out of the shower, using a rough towel to briskly buff myself dry tends to take care of any bits of tan that have dared to linger.
Of course, not all tans are such easy customers. The ones that seem formulated to weld themselves to skin can be a nightmare to remove without scrubbing skin raw (and I've had a few that didn't shift even after that.)
The best method I've found of dealing with these is to massage oil into dry skin and allow it to sit for at least 15 minutes before getting into a bath. Soak in the tub for as long as you can but at least 20 minutes, and then get scrubbing.
And if there's any tan left after that, well, you should keep it for staining furniture rather than using on your skin.
Have any tips or tricks yourself? Be sure to share in the comments!