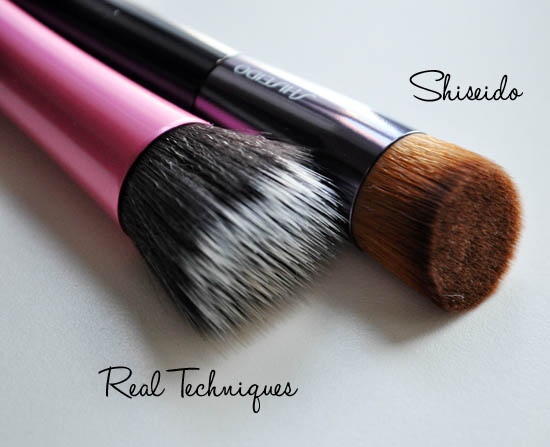 See, while I'm very fond of skunk brushes (duo-fibres like Mac's 187 with a white and black phase, great for buffing in liquid base and the light application of heavily-pigmented powder blush), I've been a bit suspicious about the more recent arrival of foundation stippling brushes to the market.
Designed to buff product into the skin to deliver a flawless finish, internet retailer Sigma's done a huge number on bloggers thanks in part to the fact they send affiliate bloggers products to try and give away to their readers, one of which has been the F80. That's resulted in blanket coverage for it online - smart marketing, guys. Furthering their popularity, Pixiwoo sister Samantha Chapman released a stippling brush as part of her Real Techniques line too for £10.99STG and I bought it to see what the hype was all about.
But these densely-packed, flat-topped brushes are  a different beast to my more usual fine-tipped, flexible duo-fibre and I'll admit it took me ages to use the Pixiwoo version; when I did, it was only for thicker-coverage bases because, well, I felt that there was no way sheerer coverage would stand up under such a packed brush head and firm buffing.
Now these brushes are coming into the mainstream and Shiseido just released a very cute version as part of its autumn collection, one of which they sent me to try. It's €30, it's got a small, slanted head containing artificial hairs in two lengths and it's very ladylike altogether.
So I decided to take the bull by the horns and ask Leonard Daly, international makeup artist for the brand, what the real deal is with these fellers. Am I right in thinking that they're really just for medium-to-full coverage liquid and cream and you're bang out of luck for buffing if you're a fan of sheer, lightweight base?
Advertised
"I've always been an 'apply your foundation with your fingers' kinda guy," Leonard says. "But with the new brush you get that perfect finish, but just a little more finished looking." Now, tell me this and tell me no more, sir, what can you use them with? "I do not use full coverage foundation but have used it with sheer coverage and it's perfect! I have also used it with powder-finish foundation and surprisingly it looked really fab."
Right, well, that's me told. The last thing I wanted to know was how to use them for optimum results. Leonard has the gen.
"The best way to use the brush is in a cross-hatch motion, always moving the brush slightly as you go. Remember to start using your foundation in the centre of your face and blend outwards. Most of us only need foundation in the "small" of our face so be sure to colour match your foundation to your colouring."
There you go. Do you own a foundation stippling brush yet?