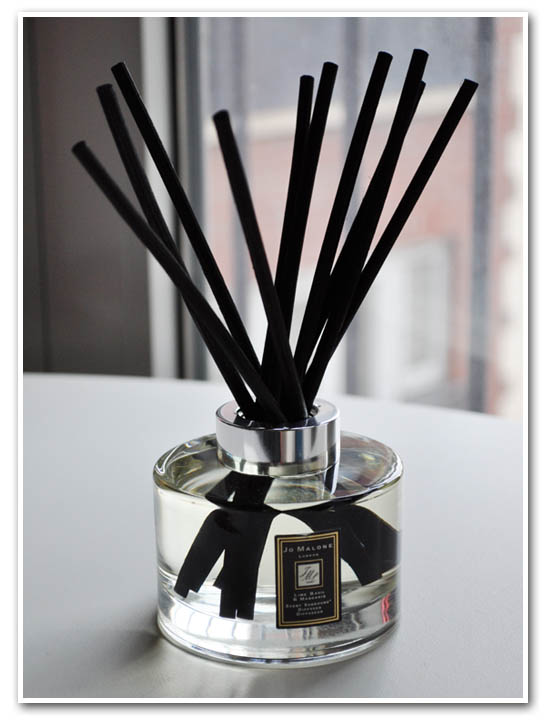 Jo Malone Scent Surround Diffuser in Lime Basil and Mandarin, €60, one of three scents (plus Pomegranate Noir and Red Roses) in a new permanent home collection from the brand, available from April
My scented candle obsession has been replaced - by a love of reed diffusers.  While I will always have a special place in my heart for posh candles, diffusers are winning the war for fancy smelling room fragrancers.  Why?  Two main reasons really.
1.  Simple economics. They last much longer than scented candles.  A candle will tell you that it's good for maybe 40 hours or if you're lucky 60.  But a diffuser counts its smelly time in weeks, not hours.  Rattan reeds soak up scent and release it out over a much more economically viable amount of time.
2. There's no need to be lighting and blowing out and trimming the wick and doing essential teaspoon-based maintenance. They're always on, filling the air with fragrance.  Great for bathrooms and the kitchen and other places where smells may ... linger.  For instance I have one with about a hundred reeds rammed into it beside the cat litter tray (the more reeds, the stronger the scent).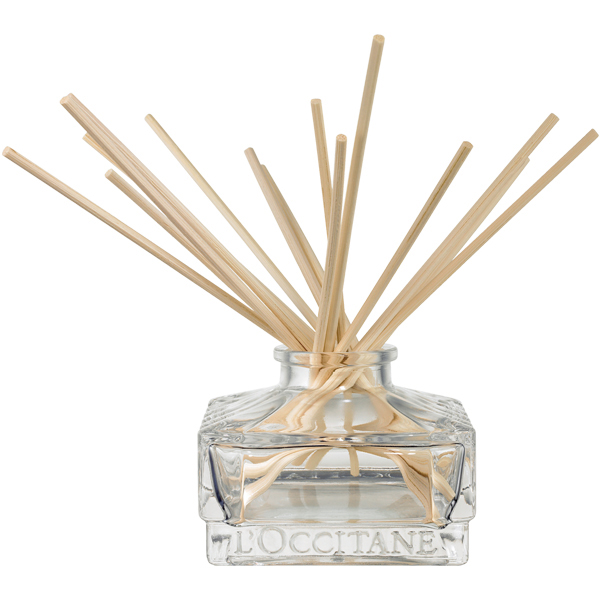 Advertised
L'Occitane and Max Benjamin scents are my favourite - L'Occitane Verbena is a fab fresh fragrance that doesn't overpower. However there is a dreadful problem with L'Occitane diffuser sets that they really need to sort out stat.
You buy the glass bottle and the reeds in a lovely gift type box.  It costs €25 (or thereabouts - someone correct me if I'm wrong, it's been a couple of months since I picked one up).  There's a slot in the box for the bottle of fragrance, they have several, and you choose the one you like.
Then when you get to the till the fragrance is charged separately.  Yes that's right.  You have to pay ANOTHER €20 for the bottle of fragrance.
So, that's more than a bit misleading isn't it?  And although I know that L'Occitane totally take the piss with their Irish markups, this is a universal defect in their delicious room scent.  Include the bottle of fragrance with the kit eh guys (and of course you'll have to price it differently), because people obviously think they're getting the lot for the initial price.  I know I did.
At the top of the page we're giving you a sneak peek of the new Jo Malone diffuser set (shriek!) which will be the absolute last word in luxury.  But all the smelly brands are getting in on the act - everyone from Yankee Candles to Marks and Spencer (these are not nice, trust me, I have one stinking out my kitchen) and Glade are peddling this product.
Advertised
What do you think?  Are you a convert or are you sticking firmly to your smelly candle habit? (Read What candle are you burning right now to find out what everyone's rating at the moment).