 Here's the second of Sara's fantastic tutorials for Beaut.ie. A copper and purple smokey look is what she's taking us through step-by-step this week, and one of the nicest things about this is how accessible the two main colours used are - they're Barry M Dazzledusts and they're just a few quid each.
Check out Sara's first Beaut.ie outing for us from last when she did a gorgeous evening-appropriate neutral eye, and visit her own blog for lots more looks too.
I began by applying Urban Decay Primer Potion (Original) all over the lid and under the lower lashes too. I was working with loose shadows, so I decided to do my foundation and the rest of my makeup later on.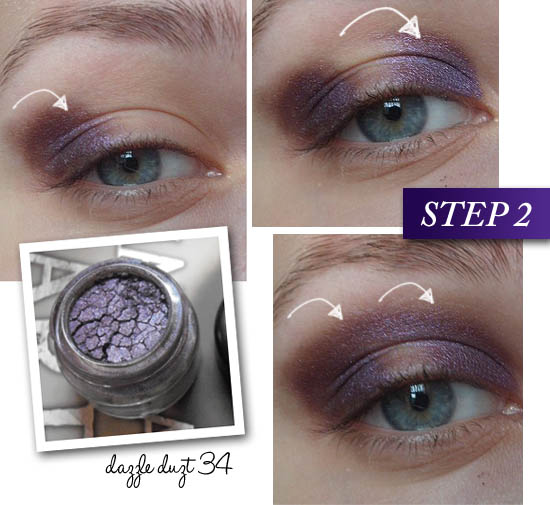 Taking a flat shader brush and this gorgeous purple shimmery Barry M DazzleDust #34 - but any purple shade you have will work fine. You can use any colours you like either, and simply use this technique. Using navy instead of purple looks stunning too.  I applied this to the outer corner, inner corner and into the crease leaving the middle of the lid bare.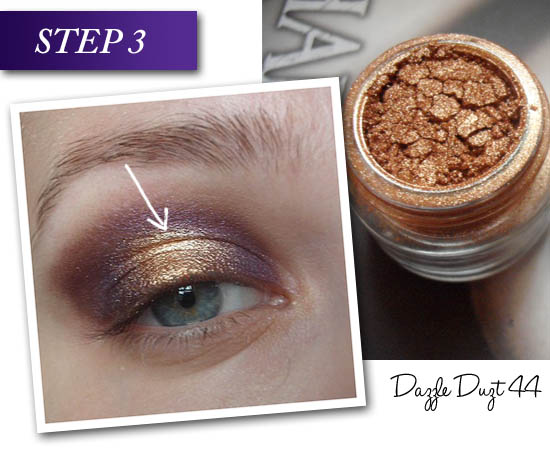 Flipping the same flat brush over, I picked up Barry M Dazzledust #44, a stunning frosted copper colour, and packed this onto the bare part of the lid.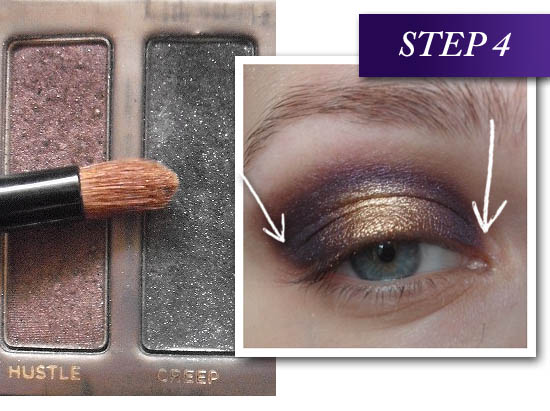 Next, to darken up the purple a little, with a tapered crease brush I applied a tiny bit of Creep from the Urban Decay Naked Palette into the inner and outer corner.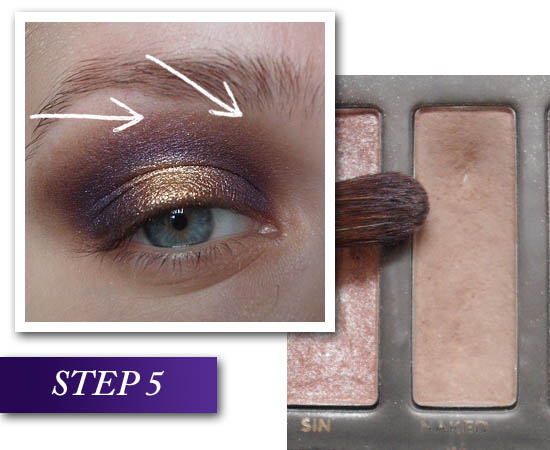 To blend out the outer edges of the purple, I used Naked from the Urban Decay Naked Palette and a blending brush.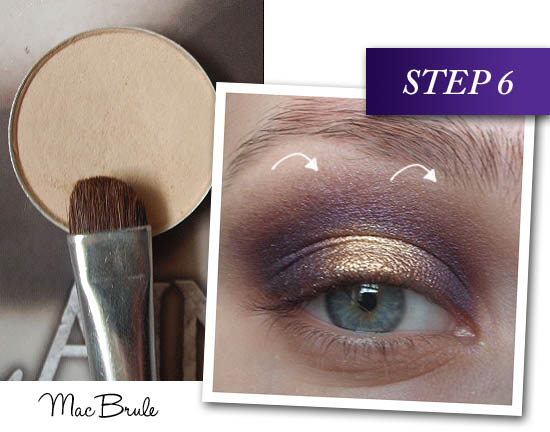 To further help with blending and to get rid of any harsh lines I applied Brule by Mac just under the brow bone and dragged it down with a stubby shader brush.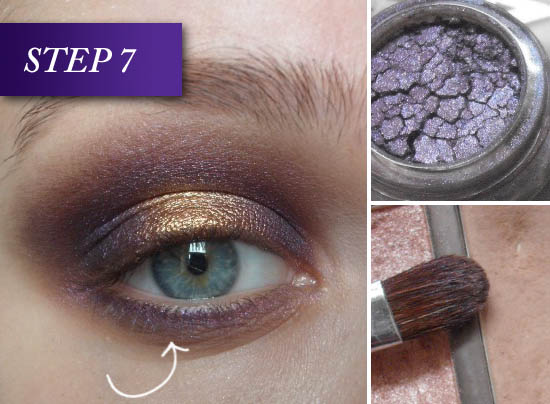 With the same stubby shader brush I took the purple Dazzledust under the lower lashline and blended this out with Naked from the Urban Decay Naked palette, bringing the shadows down quite far.
Advertised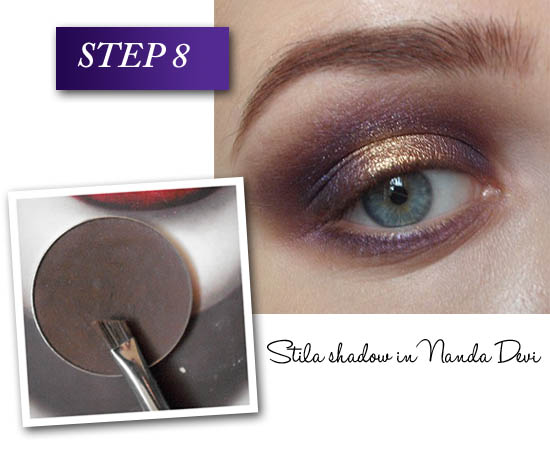 At this stage, I went back to do my foundation. I didn't do any concealing yet however. I filled in my brows using an angled brush and Stila eyeshadow in Nanda Devi (a matte cool dark brown).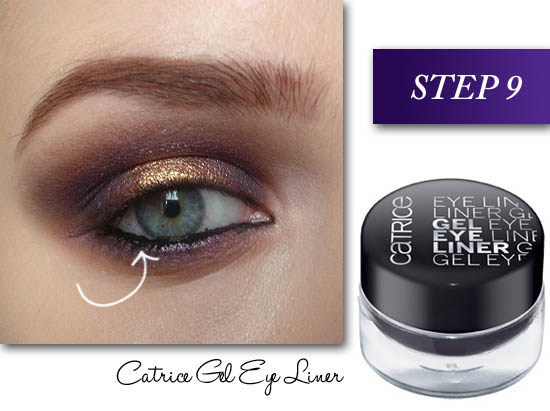 I lined my waterline with Catrice Gel Liner in Black, but put on way too much and thus it looks kind of gross in the pic! So less is definitely more.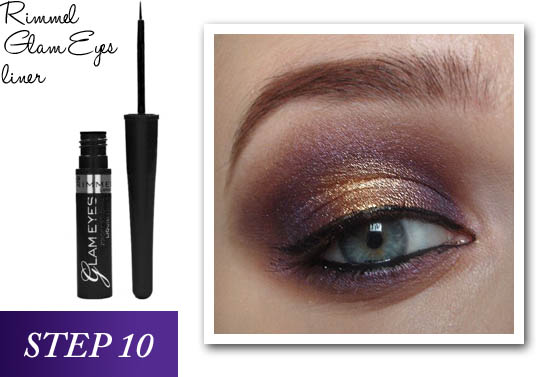 This step isn't absolutely necessary, in fact the look would be much more catwalk like if you skipped this, but I wanted to do a thin line of liquid liner on the top lashline. I used Rimmel Glam'Eyes Liquid Liner in Black.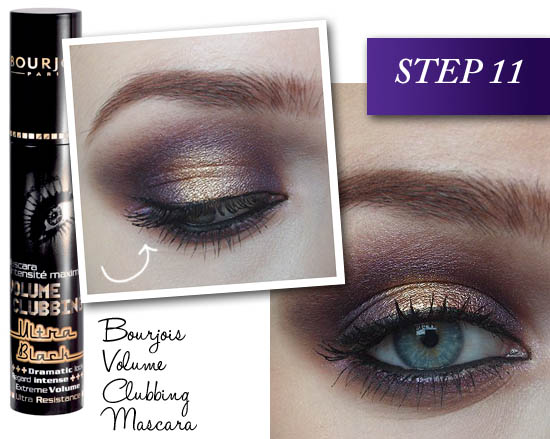 Lastly, I applied a coat of Bourjois Volume Clubbing Mascara. I was going to do eyelashes with this, but decided it looked more chic without, and I wanted all the attention to be on the colours.
And the big reveal ...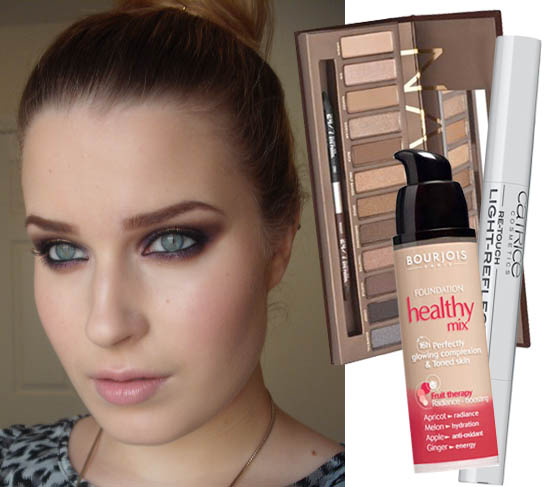 Products Used:
SKIN
Mac Studio Finish Concealer NW20
Catrice Light Reflecting Concealer
GOSH Pressed Powder 02
Bourjois Chocolate Bronzer
La Femme Blush in Flamingo Pink
Mac Cream Colour Base in Shell
EYES
Barry M Dazzledust 34 and 44
Urban Decay Naked Palette: Naked and Creep
Mac eyeshadow Brule
Stila Eyeshadow Nanda Devi
Catrice Gel Liner in Black
Rimmel Glam'Eyes Liquid Liner in Black
Bourjois Volume Clubbing Mascara
Advertised
LIPS
Rimmel Lipstick in Pink Blush
Bourjois 3D Effect Lipgloss in Brun Poetic