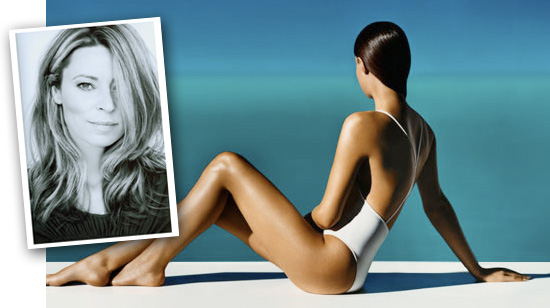 Oh poo, I thought, as I hoofed myself out the door yesterday to go and talk to celeb bronzing-wonder Nichola Joss, spokes-tanner for St Tropez. As a non-tan-fan, I wasn't exactly fired up with enthusiasm for this task. But of course I Know My Beaut.ie Duty and I'm aware loads of you love the sunless stuff, so I thought it could be worth it - plus, Nichola has a rep as an expert facialist and all round beauty-guru.
Expecting the usual by rote 'exfoliate-moisturise-apply' advice, I came home with a lot more, as it turns out that she's a bit of an inspiration actually. Full of insider tips and advice, she even managed to fire me up with the necessary zeal to tackle the dreaded self-tanner again. No mean feat, to be honest.
"Tanning is like cooking," says Nichola. "It's all about using the right ingredients and following the recipe." OK, she had my attention now, I absolutely love any form of an analogy, me.  Ingredients-wise, she reckons you'll need the following: baby wipes, latex gloves, a foam mitt, a black or dark-coloured towel to cover your hair, soap (or tanning remover), flip-flops (or something to cover your feet, to prevent skidding about on a tiled floor), vaseline, a dressing gown or loose clothing for afterwards, and of course - your tanning product of choice.
And what's the all-important method?
"Prepare, prepare, prepare," is Nichola's mantra. "You need to take the right steps to get the best results," she insists, explaining, "after all, if you're not doing all the steps in a recipe, it won't work out the way it should." I can get down with that rationale, so to achieve the ultimate at-home tan, exfoliation is step number one.
Advertised
Step two is to moisturise with a cream or lotion - avoid oil-based products unless your skin is very dry, as the result will be streaky . "Aim for supple, velvety skin," says Nichola. But, eh, when exactly should you be doing this fabled moisturisation? "That depends on the intensity of colour," she reveals. So if you want a light tan, exfoliate and moisturise, then apply your tanner once the lotion has absorbed. For a darker shade, prep the day before, of if you're in a hurry, prep in the morning and apply your tan that evening.
Step three? The tricky one - application. Firstly mask nail beds with some vaseline to prevent staining. Nichola herself adores the St Tropez Self Tan Bronzing Spray, which she says is a cinch to spray-and-go with, but it's one that often terrifies novices, so she reckons the new Everyday Gradual Tan Mousse is a good product to start off with. It's easy to work with and doesn't develop too much, so you can build your confidence before you move on to bigger - and more DHA-packed - things. "Apply this with a mitt," she advises, adding, "start from the legs and work upwards, using light strokes - don't massage it in." You can use latex gloves either, and use the mitt as a last, smoothing step.
If you're not using gloves, avoid the whole bronzed palm-thang by washing hands well with soap periodically: say, after you've done legs, wash; after torso, wash, and so on. That begs the question - they're the last thing to tackle, so how should you get your hands looking good? Tangoed fingers are a definite no-no, so what to do? The solution is genius, and Nichola gets up to demonstrate to me what she means: "place the backs of your clean hands on the sides of your bum and press lightly - that's all you need for a transfer of colour that'll look natural," she reveals.
Finishing is a big part of getting your tan looking great, and in order to achieve that realistic 'I got it on a two-weeker to the sun' three dimensional colour, you've got to do a few finishing steps. So number four on your list should always be this: get out the baby wipes and run them over palms, in between toes, over your heel and achilles tendon, round the sides and soles of the feet, inside the belly button, and lightly up the insides of the arms.
This'll give you a realistic, blended effect that's a lot nicer looking than a flat, solid-looking tangoed tan. Lastly, you'll need to let the product settle for a bit so get into something loose. "Dark coloured clothes are best," Nicola advises. "I have a black dressing gown I always use, and it's perfect."
Advertised
Me? I actually can't wait to try this method, baby wipes at the ready, and I'll be bringing you the answers to some of your reader questions tomorrow, so stay tuned for that.