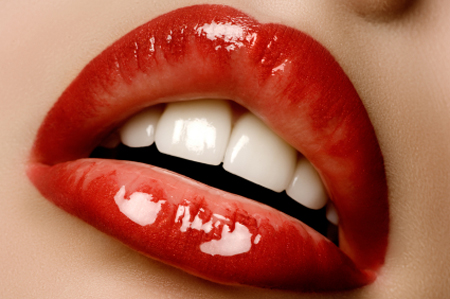 I've been following Zara's adventures in red lippy over at Kiss and Make Up with interest. She's getting to grips with wearing a variety of scarlet shades on a daily basis, and while most of us have gotten to grips with black winged liner at this point, red lipstick continues to confound gals up and down the country. It's such a statement look that it's easy to just not go there for fear of getting it wrong.
And while there isn't a pillarbox shade out there to suit all, it is a fact that everyone can wear some variation on a red. Read on for our hints and tips.
WHAT COLOUR SUITS?
If you're the classic Irish cailin with dark hair and pale skin, you can try a rich, ruby red. Guerlain's Kiss Kiss Lipstick in Exces Derouge would be only gorgeous.
Pale-skinned blondes - like Gywnneth - can pull off that true-bluey red shade. Try YSL's amazing new Rouge Volupte in Red Muse.
If you've got a sallow skin tone, try a red with a good bit of brown in it - Bobbi Brown Lip Color in Red is ideal.
Redheads with pale skin also suit browny-reds, but if you're a redhead with a bit more colour in your cheeks, try a pinky shade on lips, like Estee Lauder's All Day Lipstick in Rosewood.
If you've a dark complexion you can carry bold shades really well - look for deep cranberry and plum shades. Shocking brights will work really well too. I like Lipstick Queen's pigment-rich Sinner lipsticks in Plum Sinner and Red Sinner (from Space NK)
TIP: If you just hate the full coverage look of an opaque lipstick, try a red gloss. Chanel and Smashbox both do lovely bright scarlets with a hint of glitter.
Advertised
WHAT DO I WEAR IT WITH?
Less is more in this case. Unless you want to look like you drunkenly fell into your makeup bag after a fight with Homer Simpson's Makeup Gun, then step away from the heavy blush and overdone eyes. A lick of liner; a sweep of a pale gold or biscuit coloured shadow; mascara and a delicate blush are all you need to finish the look.
HOW DO I UPDATE IT FOR 2008?
Don't use liner. This season's lip is softer and less defined. Either apply straight from the bullet and then blot, or pat on with a finger - that's been my preferred method so I don't look too 'jokerish'.