 It's safe to say I love my job and even though it's not always a picnic (taxes/insurance etc) I'm grateful that I get to do what I love on a daily basis.
My favourite part though has to be getting the opportunity to travel abroad, seeing beautiful locations and working with amazing clothes and models. Recently I was away shooting in Portugal but in the past I've worked in Amsterdam, Berlin and Paris. Another stunning location visited was Marrakech – which was incredible. That time I was working with the UK based photographer Alexander James and Pearl & Godiva (images published in 2014 with Magnolia Rouge magazine NZ.)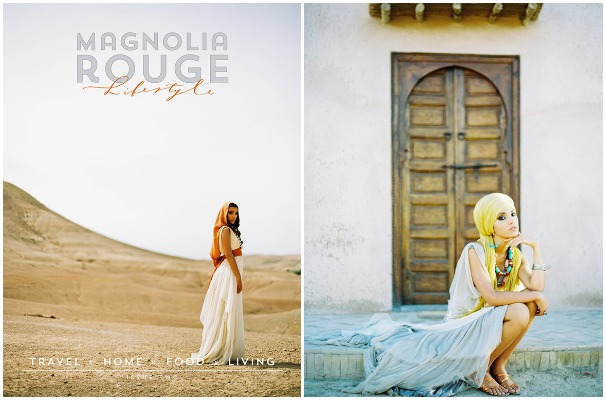 As we all know, packing for any kind of trip isn't the fun part but if you're packing for work it's another story. You never know exactly what a location might be like or what amenities could be on offer - every kind of scenario runs through your head from someone needing a plaster to watering eyes to having to covering bruises – and that's before even thinking about the actual looks you're supposed to be creating.
I have a little "emergency" kit I bring with me which consists of random things like shoe polish wipes, a mini sewing kit (not sure why as I cannot sew for the life of me), chewing gum (must stay minty fresh!) and fabric glue, hair spray, eye drops, sun cream and a few more bits.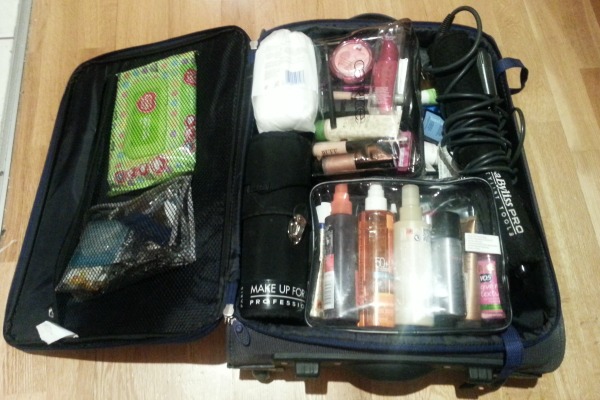 Advertised
Getting my work suitcase ready is like playing tetris with little clear make-up bags, which thankfully I love. Of course there's always the chance that my kit bag could get lost so in my carry on I bring a few key items that could be used just in case such as;  lip balm, mineral powder foundations, concealer palette, black & brown mascara and a brown pencil. I once had an experience in Gatwick where they told me I had too many liquids (they were all miniatures but that didn't matter) and had to throw them away. It was heartbreaking watching it all go in the bin but I learned my lesson & now pack mainly powder based products in my carry on.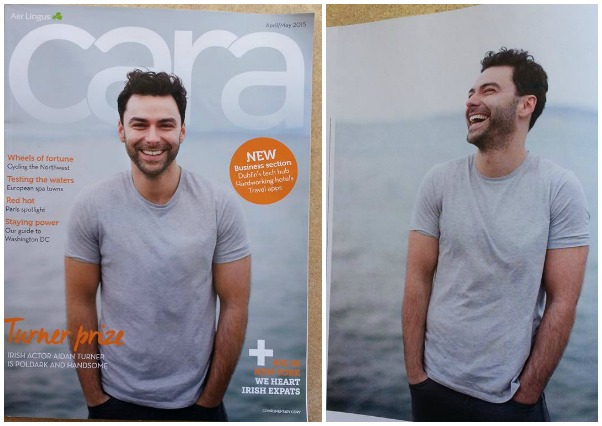 For this most recent trip we flew Are Lingus & it was a lovely surprise to see a shoot I'd worked on last month with actor Aidan Turner (Poldark/The Hobbit) turn up on the from cover of Cara Magazine. If you're wondering, yes he's just as handsome in person and yes, he's lovely! It was absolutely freezing the day we shot this and he made it look so easy. 
Before setting off we'd checked the weather and knew it was going to be good (30 degrees, nice!) so I chose to bring some weather appropriate products that wouldn't cake in the heat. At the moment I'm really into Physicians Formula products, and in particular their Magic Mosaic Powder (€17.90). It gives a youthful, soft finish to skin and has a few different shades in it which is handy. So handy in fact that for one of our shoots I used it to set the foundation, sculpt cheeks and even contour eyes.
And The Happy Booster Blusher (€17.90) is also a handy multi-tasker that gets a thumbs up too! Along with those two, my other top product of the trip has to be La Roche Posay Anthelios XL Protective Oil SPF 50+ (€21.99) which was used to create a beautiful sheen on the models skin, but also to protect my own snow white complexion. Seriously, it's the business.
Advertised
So there you have it, a little glimpse into my work life, some favourite products and how I pack - do you have any tips? If so, to the comments we go!