 The best of us get an oily t-zone, particularly at this time of year. Powder helps, but after a few reapplications, it gets mottled and cloggy and generally looks a bit crap. I love a good blotting sheet, but they only really help once the oiliness has broken out, and your face has taken a very obvious trip to shinesville.
Last week, when I was at the launch of Benefit's new coloured mascaras and liners, they had another sneaky launch in the bag. A new addition to their Porefessional range, License to Blot! It's not a primer or a powder, but a weird, magical hybrid that has already earned a coveted spot in my handbag.
Looking at it, I'd describe it as a sort of blotting stick.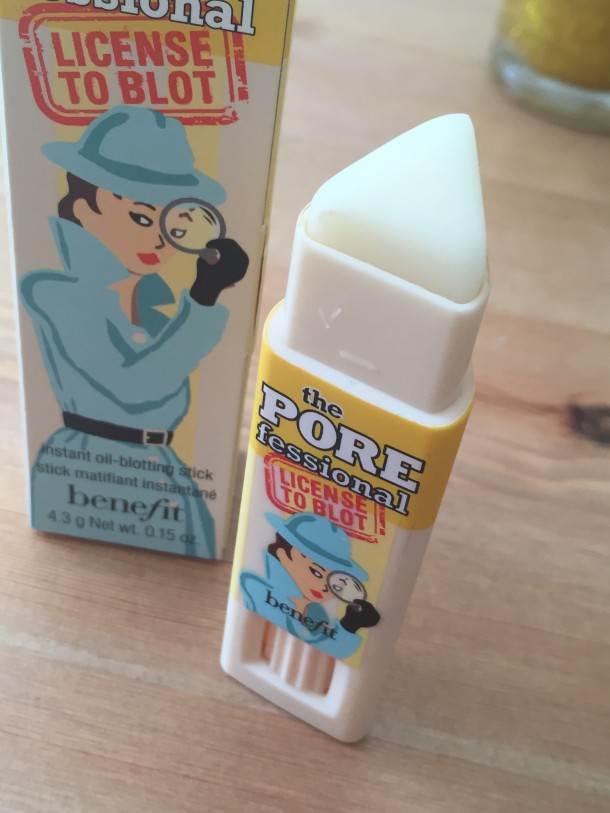 It's conveniently tiny, being just a little larger than a lipstick, so you can keep it in even the smallest handbag and discreetly whip it out for touch-ups. The triangular shape is designed to access the corners of the nose without displacing makeup, and it fits perfectly on the sides of the nose too. 
You can apply a touch of this before foundation like a primer to keep shine at bay, but I like to use it to blot. Just press it gently on oily areas and it absorbs oil like a sort of spongy, siliconey wonder-stick. You can blot as many times as you like without causing nasty buildup, or displacing your makeup. Here is my unfortunately shiny nose area right after foundation application - I've used License to Blot instead of powder and it's given me oil control without any overly made-up looking heaviness.
Advertised
 Available from June, this little fellow will set you back €21.50. Despite the size, I think it's worth it - you use hardly any by simply dabbing the product over oily areas, and it lasts a lot longer than any pack of blotting papers I've encountered.
What do you think? Handbag saviour or gimmick? To the comments!