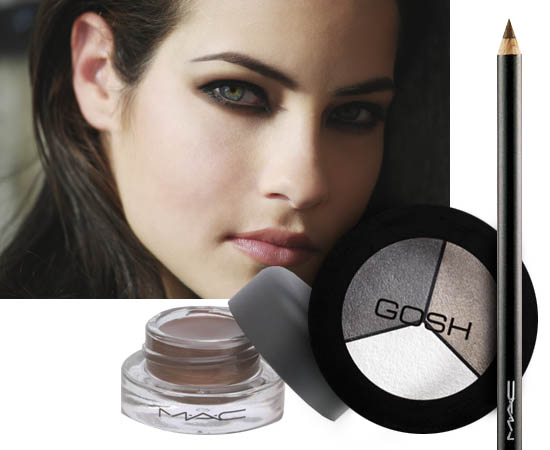 I've noticed a rake of requests flooding in over the last little while, all asking for one thing: recommendations for eye make-up to make green and hazel eyes pop. As the posesser of a pair of muddy irises that somehow manage to flash between warm green and hazel, seemingly depending on which way the wind is blowing, I can absolutely relate to the frustration of trying to find eye make-up that'll really enhance those green peepers.
Purple is always, always recommended for green eyes since it's opposite green on the colour wheel, but in truth it's not for everyone. That's because most green and hazel eyed gals have distinct flecks of other colours in their irises - mine are a dee-lightful rust and yellow, which means they lean towards the warm end of the spectrum. It also means I find purples quite diffucult to wear, while someone with cooler green eyes who doesn't have those warm flecks will be able to carry them off with far greater ease.
Now, I wouldn't let a little thing like that prevent me from wearing purple. Although it can make you look like you took a right hook to the eye area if you choose the wrong shade, it can look totally fab if you manage to pick the right one. While a good rule of thumb for most people is to steer clear of purples with a lot of pink or red in them since they're inclined to magnify the slightest hint of redness in the eyes themselves, aubergines and plums, especially ones with a golden shimmer, are likely going to suit warm greens better than blue-based lavenders and lilacs.
If a purple shadow is giving you a touch of myxomatosis eyes and you haven't got the time to start again from scratch, try counteracting the effect by tightlining lashes with a liquid eyeliner in royal navy (I use Clarins Blue Shimmer) or royal purple like Ruby & Millie i-Writer in, er, Purple. Creating a strong visual line between your eyes and the offending eyeshadow like this helps to stop your eyes looking bloodshot when wearing red undertones.
Metallics can be stunning on warm green eyes, and bronzes and golds tend to be particularly flattering - for a subtle day appropriate look, try pairing gold on the lower lashline with a neutral lid. Coppers are a wee bit harder to get right because of their red undertones, but that doesn't mean they're necessarily out altogether - just be sure to pair them with a slick of dark brown or black eyeliner à la Olivia Wilde.
Advertised
My own staples would include Ruby & Millie i-Writer in Bronze, H&M Brown Dust, MAC Teddy pencil liner, and MAC Rich Ground Fluidline. Illamasqua Precision Ink in Alchemy, €19, is on my list.
Greys are often overlooked as a good pick for green eyes, possibly because flat or lighter shades of grey really won't do much to enhance those peepers. Try a pewter mid-to-dark grey shade like Rimmel Glam Rock, €5.23, instead, using a silver grey on the inner corners if you feel they need brightening. A grey like this can also be used to add depth and intensity to otherwise insipid purples. If you want to try a grey liner, give a dark, steel shade a whirl.
For an easy everyday look, try light pink as your go-to neutral, washed across the lid with a taupe blended into the crease for definition.
Obviously, those are just some guidelines rather than hard and fast absolute rules - teals and turquoises can also look amazing on green/hazel eyes, for example, as can golden or olive greens if you've got those warm flecks, so don't be afraid to play around. Remember too that things like your own skin and hair colouring and even the undertones of your dark circles also have a role to play in determining what colour eye make-up will suit you: it's not just about the colour of your irises. That's why some colours that should, in theory, look amazing on your eye colour don't work In Real Life.
Maybe you've got a favourite failsafe hue to recommend to your fellow green eyed gals, or perhaps you've found one that's to be avoided at all costs. Do let us know in a comment!