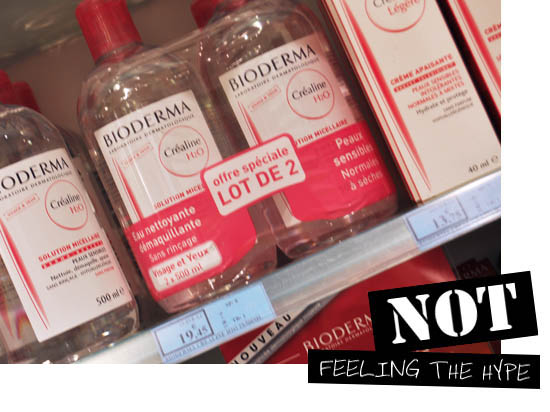 Spotting this on the shelves of Monoprix in Paris this week reminded me that I've never blogged about the bottle of Bioderma Crealine I hunted down and ordered online a few months ago.
A micellar, or water cleanser, this is one of those cult beauty buys those in the know absolutely rave about. Makeup artist Christine Lucignano's told me she swears by it and always has one in her kit, models love it and beauty editors tip it the desirable nod too.  Designed to take makeup off and cleanse skin, I wonder is a large part of its appeal the fact that it's actually just quite hard to get both in Ireland and the UK.
Cos quite frankly, this don't impress me much. I can completely see how it'd be very handy for a makeup artist to have one in their kit for quickly and cleanly correcting mistakes and tidying up makeup with Qtips, but as a product to have on hand to remove a full face of makeup pre-bed, for me it's a total faff.
Now, I'm no fan of milk or water cleansers anyway, hating to use tissue or cotton pads plus huge squidges of product to take makeup off. Oil or balm, warm water and muslin or facecloth; done. Clean, soft, comfortable skin and no pile of gunky dirty cotton to dispose of - that's the way I want to handle my cleansing routine.
Advertised
I don't find this particularly great at getting makeup off either and it can't really deal with heavy-duty eye makeup so you will need a separate remover. I was using so much each time it also seemed to be completely cost ineffective too.
Nah, not a fan. Not for me.
If you like this sort of product and you think you'd like to give it a go, take note it's recently changed name to Bioderma Sensibo. I got mine from LeGuideSante.com for $21.93 for a double pack of two 500ml bottles (Aphrodite was the recipient of the other, I am sure she'll leave her feelings in a comment) with a slightly terrifying shipping and handling charge of $16.65. In euro, the lot came to €28.14, which was over the odds - as you can see above, a double pack cost €19.45 on the shelves of Monoprix this very week.