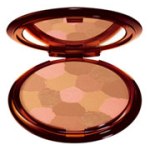 Most of us probably don't swear in public very often. We are Laydees, after all. But a cosmetic calamity of such magnitude befell me yesterday morning that I accidentally turned the air blue with the roar I let out of me.
Somehow, my beloved, cherished, bloody gorgeous Guerlain Terracotta Light bronzer crashed to the floor. And although it fell on carpet and the compact mercifully remained closed (because that's not a fun clean-up operation), I knew it was broken. Even as it was still tumbling through the air and I desperately clawed at it while everything suddenly became very slow-mo and all I could hear was my pulse thundering in my ears while my heart lept into my mouth, I just knew that the gorgeous mosiac of sheer bronzers within was feckin' totalled.
At about €38, it's won't be particularly cheap to replace, but I will be getting another one. However, for anyone who'd rather eat glass than spend forty quid on a bronzer, there are a few budget-friendly alternatives about. If you know someone who's headed Stateside anytime soon, you could have them pick up Sephora's version with SPF15 for you ($15). And if you think that's still too pricey and there's a Superdrug near you, nip in for an NYC Colour Wheel Bronzer which retails for the princely sum of £3.99! Which is what, about 78 cent? Bargainous!
Advertised