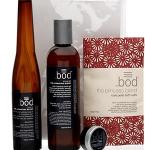 We all knew BOD was a talented lad. Apart from not scoring a single try in the World Cup.... But who would have thought he had his own organic skincare line?
Oh wait - silly me! It's got nothing to do with Dricky and his powerful thighs. Or his considerable ball skills. No, this Bod is an all natural range from Australia that looks totally delish. Antioxidant and soothing, it's suitable for all skin types. Rose Princess bath salts, a Goddess bath pack, cleansing lotions, body oils, lotions and butters.
Just name a part of your body and Bod can soothe and comfort it. Ahem.
Advertised
Check out Bod on the fabulous Lovelula, our fave online apocathary.