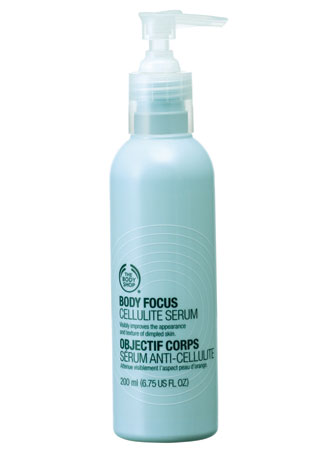 We've been discussing the dreaded c word a good bit recently, and in a comment on a post about an Elemis body brush, reader Bee raved about the Body Shop's Body Focus Cellulite Serum. It's a "lightweight gel, with effective ingredients and innovative technology, that sinks into the skin to improve the orange-peel appearance caused by cellulite", say our pals at the Body Shop. It's clinically proven, which means they trialled it - always a good thing to look for, especially in a product like this, and you should see results in the usual six weeks.
So, we know it's clinically proven which is great - but that doesn't always translate into good user experiences unfortunately. What did Bee think of it? She says she would definitely recommend it, and she reckons it's like Deep Heat - "makes your legs tingle like be-jaysus, and has caffine and mint - key ingredients to reduce cellulite". She went on to tell us that she also "saw a review of it on the Afternoon Show and yer one gave it 10/10".
Advertised
Ace! Get yours from the Body Shop for about €24.