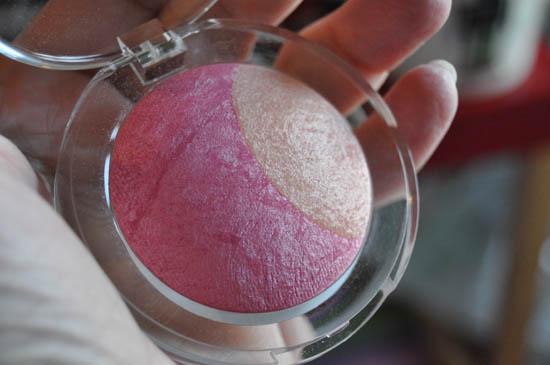 Continuing my campaign of being impressed by the makeup on offer at the Body Shop, I've been checking out some of its recent Baked to Last line of blush and shadow. While some of the shadow duos would nearly give the Mineralize Eye Shadows from the Maleficent collection from Mac's Venomous Villains a run for their money, it's the blusher I've been most taken by.
Cos I love a good blush, me.  And while €21 is spendy, you get 5g in the pan, which is a decent amount. Put it this way, you won't be running out too quickly.  Speaking of the pan, the packaging is lovely: I'm a sucker for perspex and this a chunky, tactile presentation that'll look great on a dressing table or in your makeup bag.
The shade I was sent to trial was Coral, which was handy as I love coral blushers, and the fact this is baked means it's quite sheer but layerable, and has a nice skin-flattering shimmer, but no chunky glitter.  While I'm sure you can use the two shades solo, that's too fiddly for me so I swirl a blusher brush through both, tap off any excess and go at it on my cheeks.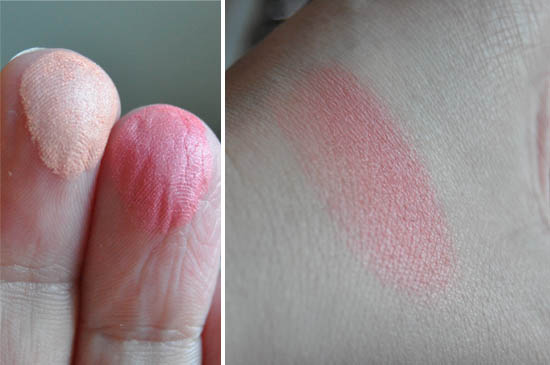 Advertised
(heavily swatched!)
On the skin, this delivers a pinky-peach flush that's flattering and for a lot of people, easier to wear than a pink. Make up artists like Bobbi Brown say bright pinks and peonies deliver the best result for that cliched 'pop' of colour, but on a classic Celtic skintone, I have to say I think peaches and corals are a lot nicer and don't play up any tendency towards flushed cheeks.
That's not to say I don't go for pink - I do, absolutely. I just find for a look that's more subtle and natural, peach-toned blush is the way to go, so this is one I'm using quite a bit for day at the moment. In addition, this has skin-friendly benefits in that it contains Community Trade organic olive oil from Italy and marula oil from Namibia, so you're helping the planet too.