 When I first looked at the packaging for Bourjois Bronzing BB Cream 8 in 1 a couple of alarm bells rang. Firstly the phrases 'universal shade' and 'addictive fragrance' feature on the bottle. How can one 'universal' shade work on my pale Irish complexion AND darker skins?  It came out of the bottle looking WAY too dark for me, but it actually blended pretty well.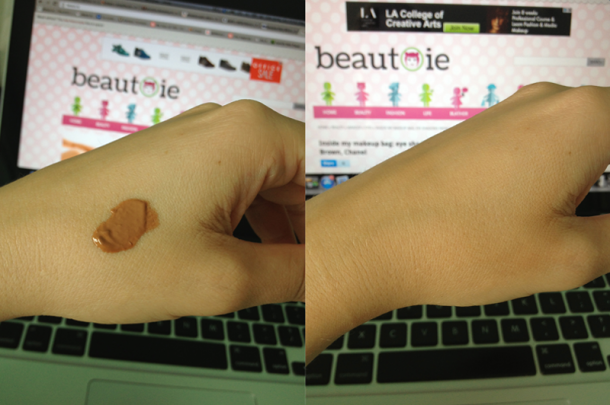 I'm also wary  about any fragrance in a product I'll be wearing all day, and 'addictive fragrance' implies a smell that's going to be hanging around. The Bourjois BB cream smells of vanilla and holidays though, so not too offensive, plus I only really noticed it while I was applying the product. It's a really similar scent to their Bronzing Primer.
 Here's a picture of me wearing JUST the BB Cream and a teeny smidgen of mascara.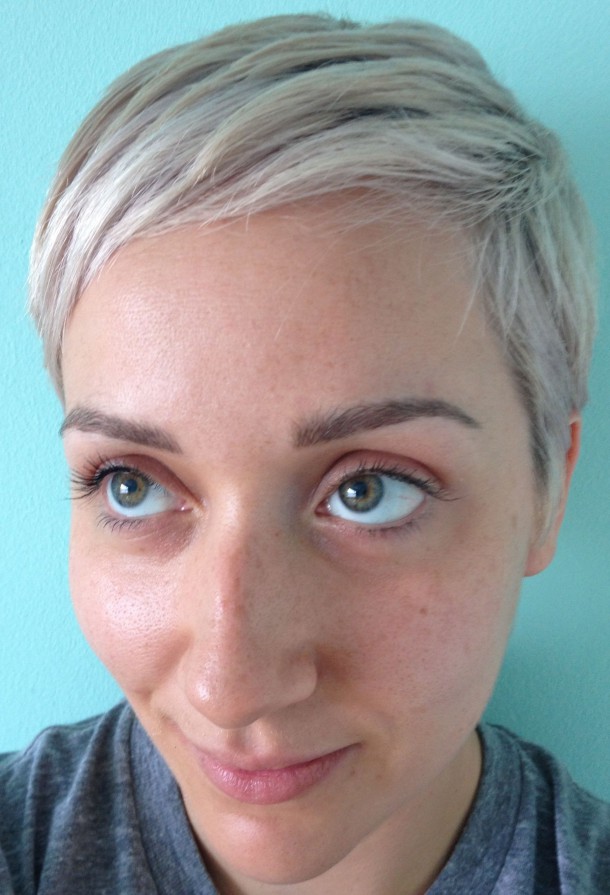 Here's those eight claims - and here's my verdict.
Advertised
Evens Skin Tone – Ok I think it's delivered here, I look even enough, redness is reduced, although I am ITCHING to put on some concealer under the eyes! 1 point.
Sheer Tint – Yup, it is nice and sheer, I have indeed been tinted a lovely bronzy shade, and not the tango orange you might fear from a product that comes out of the bottle looking so extreme. 1 point.
Boosts Radiance – Well it's quite tricky to measure your own radiance, but I think it's imparted a nice glowy effect - I do need some powder, as radiance boosting is not really required in my t-zone. 1 point.
16 Hour moisturisation – Hmm, I have dry irritable skin and there really isn't a BB Cream that'll moisturize it for 16 whole consecutive hours, this is no exception - it's not drying exactly, but I don't feel actively moisturised throughout the day either. 1/2 point.
Smoothes Skin – It does! My skin looks smoother, which is NOT an effect I was getting from their bronzing primer at all, so I'm quite pleased with that! 1 point.
Prolongs Tan – I don't actually have much of a tan, but it is a moisturising formula, so that would in theory prolong any colour you have. 1 point.
SPF 15 – Always a good thing, can't argue with that.  1 point.
Refreshing sensation – This is a bit of a waffley claim.   Applying the product is roughly the same as applying any other BB cream it does have a nice blendable, buildable consistency and a vaguely chocolatey fragrance, is that refreshing? I'm really not sure! 0 points.
So overall an impressive 6.5 out of 8 for Bourjois. I'd be interested to see how this fares on darker skin tones, although it's buildable I just can't imagine it making much of an impact. I won't be throwing out the rest of my make-up bag, but this will be a useful addition for the summer.
If and when I ever get a tan it'll be perfect for mixing in with my regular foundation. All in all not a bad way to spend €13.99.
Have you tried it?  What did you make of it?