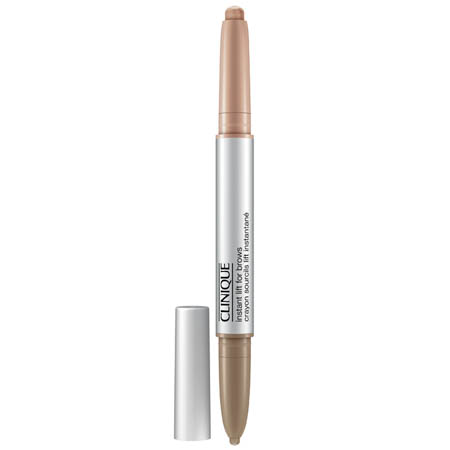 I'm a weeny bit obsessed with my brows. Y'know, just a smidge. In fact it's fair to say we're a blog obsessed with brows actually and only too keenly eager to test and try all manner of new brow bits as they arrive on counter. Hard auld life.
One I've had in the 'oh Kirstie would you ever get a wriggle on and test it' pile was the new Instant Lift for Brows by Clinique. At €17, this isn't a bad price, and makes for an affordable Saturday splurge. Double-ended, it's got a coloured brow wax on one end and a shimmery highlighter for use beneath the brow on the other.
Available in three shades (Soft Blonde, Soft Brown and Deep Brown), the darkest is the one for me. What's good about this is the ease of use and speed - yeah, you'll get the most pro-of-pro finishes with powder and a brush, but sometimes you just want to get the job done quickly and this is the boyo for that. There's no paring required, you just twist up, lightly draw onto brows and you're all set - the fact it's wax based means unruly hairs can be kept in place too.
Advertised
I'm not a fan of the under-brow highlighter though, it's just too shimmery for my liking. But it's a nice consistency and applies easily too - the pearlised effect isn't one I like but I'm sure lots of others will. All in all, this is a great buy.