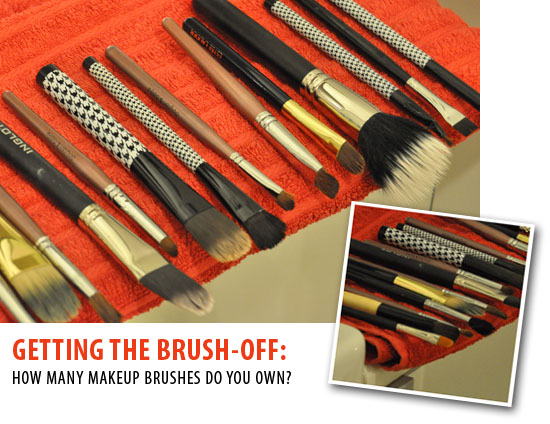 I was washing my brushes the other day and it took for-bloody-ever - and all I cleaned were the foundation and eye brushes. My various powder and cheek tools are still in need of a good screamingly-bright-blusher-removing scrub. The fact is, I might have a few too many for my needs, but I use 'em. With about 15 shadow brushes at my disposal and laziness in my heart, I find they only get a proper clean when I've worked my way down the ranks from the ones I love to use to the ones that give only an OK result.
My collection is a motley one: brushes by Bobbi Brown sit beside Smashbox, Mac, Stila, Estee Lauder and Lancome. A few Sephora-brand ones are in there too as well as some Inglot, Gosh and Art Deco offerings. All-in-all, I have about 40, and no intention of stopping. New to my wishlist is that baby skunk brush from Mac we looked at last week and I would adore to get my paws on a set of Shu Uemura's Kolinsky brushes.
What about you? Do you have an ever-expanding set or a select coterie of faves? Take the poll and lets find out!
Advertised
[polldaddy poll="2746186"]
Yup, those are some of mine above. I wash 'em in Redken's Smooth Down shampoo (don't say I'm not good to them) and pat out excess water with a muslin cloth before reshaping and lining them flat up on a towel, allowing the brush heads to poke out over the edge to allow proper air circulation.