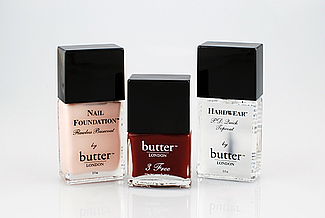 We've been doing a lot of blogging about all things nail-related recently and I promise no more from me on that subject for a while. But first, I have to tell you all about Butter London.
This US company with a love for all things British, create nail products without the nasties, so that means no formaldehyde, no toluene, and absolutely nothing toxic. But this is no touchy-feely brand - this stuff is cool. With a capital C. Great shades, great ethics and chunky packaging make up for a brilliant range for anyone who cares about what they put on their nails.
Advertised
Buy here exclusively from Queen Beauty Emporium, on Aungier Street. This pampering-palace is fast becoming a mecca for luxe and hard to find brands - if you're in the area and haven't yet popped in for a visit, I urge you to rectify that with the quickness!