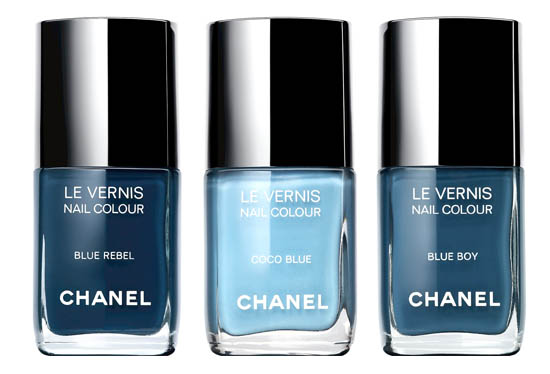 The beauty blogosphere has been abuzz for the last couple of weeks about Les Jeans de Chanel, the latest collection of must-have nail polishes dreamed up by Chanel's creative director of make-up Peter Philips to celebrate Fashion's Night Out.
You'll no doubt remember the almighty furore that surrounded the FNO debuts of the limited edition Jade Nail Collection in 2009 and last year's Les Khakis de Chanel, and polish fanatics were positively salivating at the prospect of adding 2011's denim-inspired shades to their stash. The limited edition release is available now exclusively from Chanel boutiques (including Brown Thomas) and even at €25 a pop the collection is pretty much guaranteed to sell out. Run, don't walk, if you fancy getting your paws on a bottle or three.
On the other hand, you could always stash that €75 in the back pocket of your jeans and bag a high street dupe instead. Mr. Philips might hunt me down and beat me up with a make-up brush for saying this, but since I got a look at the preview shots of the collection almost a month ago I've been secretly thinking that these blue creme shades aren't nearly as unique as previous Chanel offerings.
I know, I know. Sacrilegious.
While the rest of the nail polish loving world has been wetting themselves in anticipation of the Les Jeans de Chanel launch, I've mostly been thinking about ways to nail the look for less. Here are my suggestions for duping these particular denims...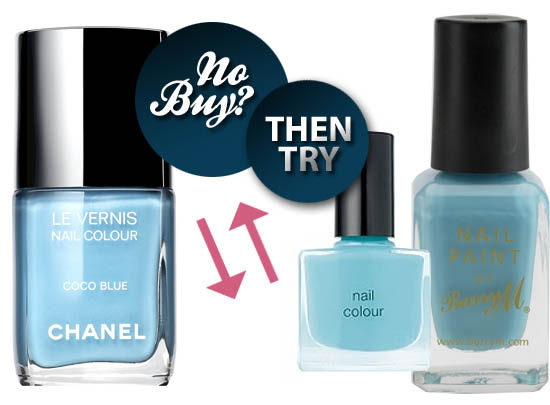 Advertised
Coco Blue: The lightest shade in the collection, I'd describe this a true baby blue; look for pale blues that don't have any green leanings and aren't too pastel. Something along the lines of Marks & Spencer Essential Nail Colour in Baby Blue or Barry M Nail Paint in Blueberry Ice Cream would do the job nicely.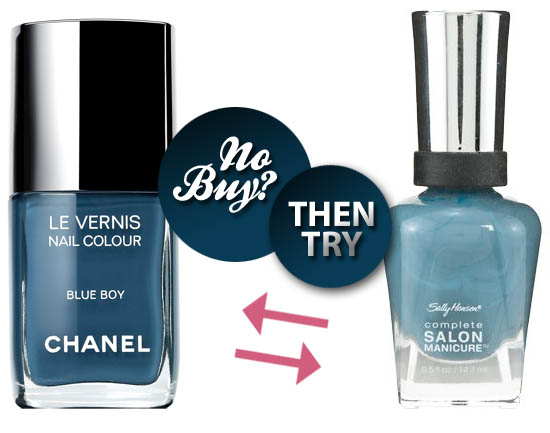 Blue Boy: I think this is possibly my favourite of the three, a dusky, grey-leaning, slate blue that can't decide whether to be a grey-blue or a blue-grey when it grows up. This is the most difficult of the Les Jeans to find a dupe for, simply because there aren't that many such shades doing the rounds currently; check out Sally Hansen Complete Salon Manicure in Gray by Gray, which is in a similar vein.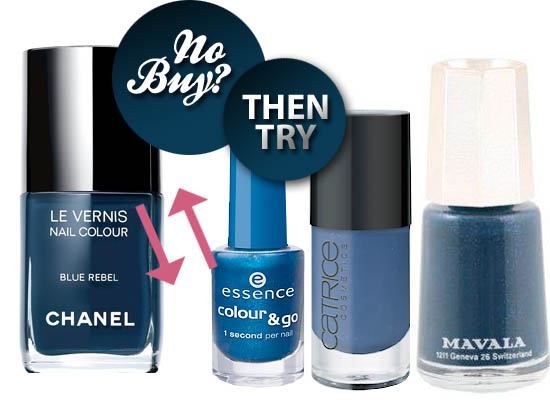 Blue Rebel: Blue Rebel reminds me of the colour of the sea after a storm, and while it's the darkest of the trio it's not quite dark enough to be considered a true navy. Dark smoky teals are the way to go here: try polishes like Mavala Smoky Blue, Catrice Hip Queens Wear Blue Jeans!, or Essence Underwater (any shimmer that you see in the bottles disappears on the nails and simply adds depth rather than bling.)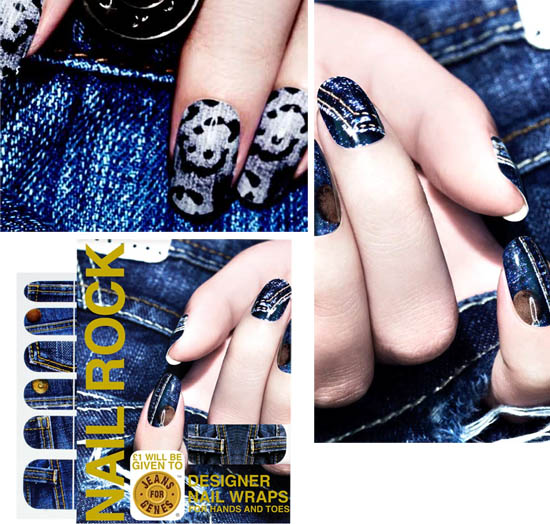 Advertised
Finally, for a more literal interpretation of denim as nail adornment and a tongue-in-cheek take on the trend, check out Nail Rock Nail Rock Jeans for Genes nail wraps. Available at ASOS for €8.59, the three designs on offer feature zips, seams, or cheetah print on denim backgrounds.
Are you excited about Les Jeans de Chanel or will you be seeking out a dupe instead?