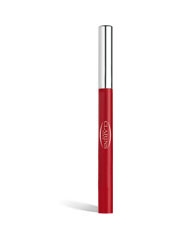 Lancôme probably won't be too impressed with me nicking the tag line from their Anne Hathaway fragrance ad to give praise to a Clarins offering, but it's the truth, dammit! For a long time, I thought I'd found my ultimate navy liner in a MAC Fluidline gel... but then a little red liquid eyeliner pen with a shiny silver lid sidled into my life and captured my heart.
A built-in tapered brush and the usual twist-to-dispense mechanism make this an absolute cinch to apply, even on the go, it's really long-wearing, and the colour is just be-yoo-tee-ful: a midnight blue shot through with subtle blue shimmer (you just need to be sure to shake it before use so that the shimmer's evenly distributed). Navy eyeliner is pretty much universally flattering and makes a nice change from the usual black or brown, and the iridescent quality of this particular product really helps eyes to sparkle.
I've already repurchased, which is A Big Deal as (a) they're not exactly giving these lads away, they're €24 a pop, and (b) I only ever buy things I really truly heart a second or third time. And I'm seriously considering stockpiling a few spares (or twelve) - this came out as part of the A/W 2008 Jazzy Colours collection and while it's still in stock and readily available at the moment, it was a limited edition release.
Advertised
Typical!