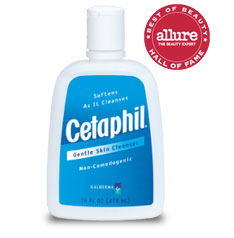 We were discussing our favourite cleansers, on foot of the Beaut.ie Stars of 2006 results.
Aisling left a comment to tell us about Cetaphil, saying "it is the best cleanser I have ever used. It's really cheap, takes everything off, (bar your clothes), and leaves skin really clean. I've used the foaming cleanser and cream cleanser and both are great. Only problem is, it's only available in the States, not sure if you can get it online. But it's well worth stocking up on if you/someone you know is going. You can get it in any drugstore, e.g. Duane Reads, and it costs about $10 for a really big bottle.
"I found out about it the last time I went to the States - the guy sitting beside me on the flight was telling me about a list of things he had been asked to bring back to his girlfriend, and this was top of the list. Curiosity got the better of me, and I had to see why this was number one on her list."
Aisling acknowledges that Cetaphil looks more like something you'd leave in the bathroom to clean the sink than to cleanse your face. "Ok, the packaging, as I have said is very ordinary. It will be completely off-putting for anyone looking for nice girly packaging. And if you are the type of girl who likes Benefit-style products around the sink, forget this."
Advertised
"But it works, it works, it works. I am a real sucker for cleanser, and will still cleanse when I stumble in the door drunk after a big night out (well I'll make an attempt at it anyway). What I find with a lot of the other cleansers I have used in the past (Lancome, among others), is that I take off my make up, but still need to go over my face with damp cotton wool/cloth - does that make sense? But with this, it really does take off all my make up. I wear flash bronzer, foundation and blusher - that's three layers and this stuff takes it all off effortlessly. And I don't feel as if I am using Nitromors."
"If my skin could talk it would thank me for using this."
So good things CAN come in ugly packaging - thank you Aisling for telling us about Cetaphil! And of course, if you have a cleanser that you love, that didn't appear as one of our Top 5 Best Cleansers, then leave us a comment - or if you agree with the results tell us! Check out this post: Beaut.ie's Best Cleanser