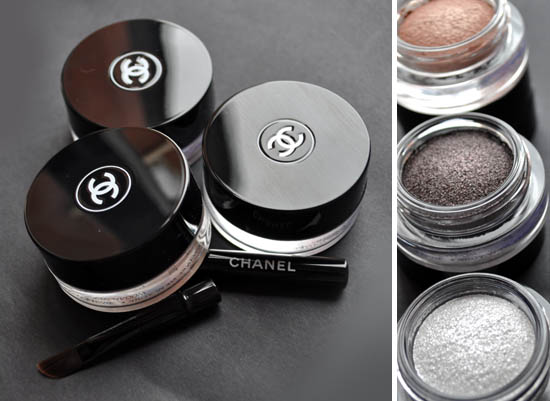 Chanel's autumn collection, Illusions D'Ombre de Chanel, lands on counter on August 19th, so mark that in your double-c decorated diaries, fans. We've actually pretty much previewed almost everything coming down the pipe from the brand including a super-early sneaky peek of the Graphite nail shade (and we've done some duping investigative work too) as well as a look at the cruise collection beauty which used the products. Check those posts out for more of what's coming mid-August, because today we're going to take a look at something that's brand new.
Six eponymous eyeshadows are the real point of difference in the new collection.  They're not like anything I've tried from Chanel, and, well - they're not really like anything I've tried from any brand really.
Are they good?
Ah ladies, what do you reckon?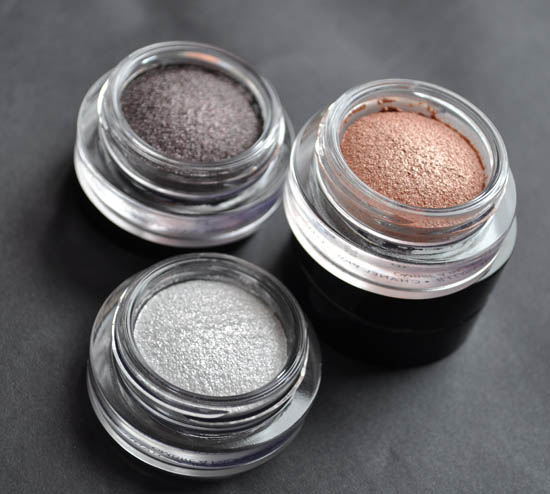 I was sent three to play with: top left is Illusoire, middle is Emereveille and bottom is Fantasme. Each contains 4g of product and will cost €28.  Straight off the bat, you wonder is this Chanel stepping up to Giorgio Armani and taking on that brand's Eyes to Kill Eyeshadows? Yeah, they might be, but these aren't the same beast at all.  They look alike, I'll grant you, in their glass pots with lacquer lids, but where Armani has that hybrid pigment/cream texture, I think these are what Mac's Big Bounce shadows promised with an enticingly Adrian Mole-style name and then completely failed to deliver with that miserable wet result.
Illusion d'Ombre Long-Wear Luminous Eyeshadow have a well-sprung mattress texture to them and are essentially a very very densely whipped mousse so the texture is firm but pliable. There's lots of silicone in here so they're very easy to work with. Easier, I'd say, than any other cream or mousse texture I've used, and about a gajillion times easier than Big Bounce shadows which were a messy nightmare, and which I abandoned almost instantly.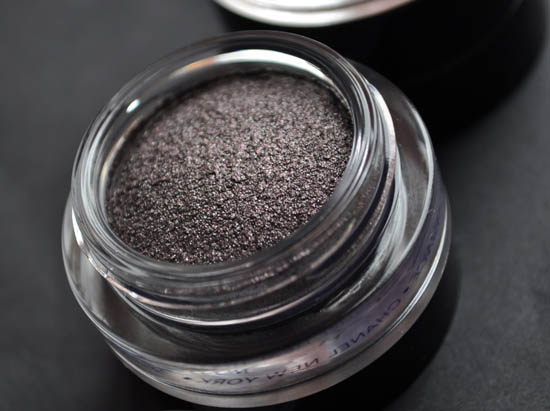 Illusoire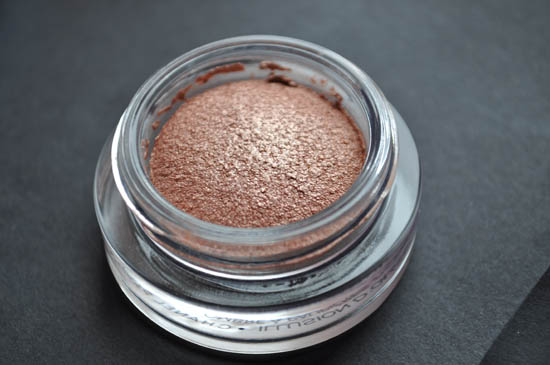 Emereveille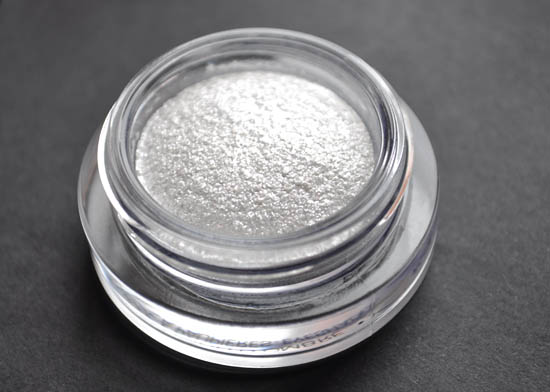 Advertised
Fantasme
Adult lady sparkle is the name of the game here. These are shimmery and then some. If you're a mattes fan, look away now; there's nothing particularly low-key about these and for that I sing a Hosanna to the highest king.  Of the three, it's Illusoire that's captured my attention the most - it's a really interesting shade that's a lot more versatile than it looks, sheering out on the skin for a deep silvered violet finish that's incredibly flattering. Fantasme is one I'd keep for an accent colour only and Emereveille is a lovely basic neutral but I've yet to find a way to work it into a look - shimmery peach all over the lid is not really A Me Thing.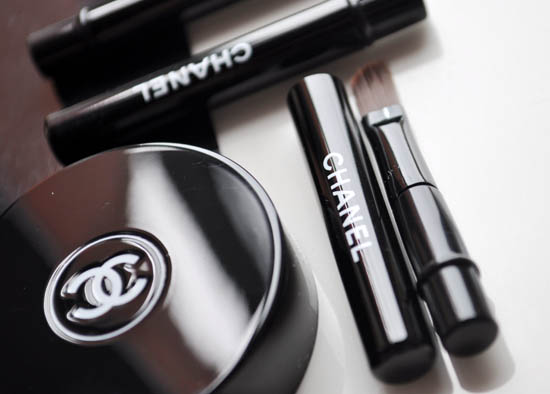 Application, as alluded to above, is seriously a super-cinch. You do get a very cute little brush in each box, but while it's ok, it's only ok. I ditched them and used my own. These apply best with a flat placement brush - synthetic brushes are also great for use. You can blend them out with any fluffy or blending brush as well.
But you know what? Fingers. FINGERS. The formula is so good and so well put together that actually, you can apply with the pads of paws and blend out pretty damn convincingly with your pinkie and no one will be the wiser. Thank you god of silicone. That makes these a great office-to-party (eh, if anyone actually does that) product.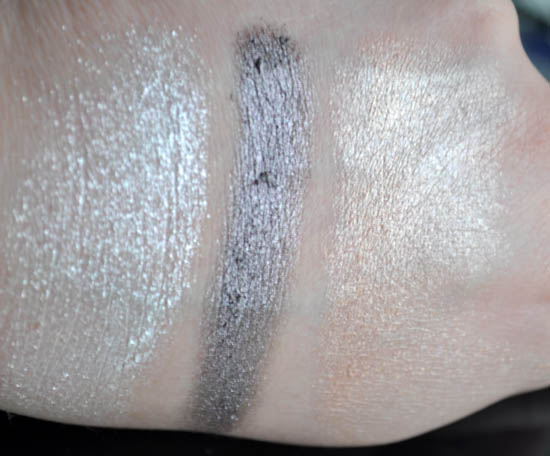 Feel the sparkle: Fantasme, Illusoire and Emereveille. As you can see from Illusoire, these are better built up in layers as opposed to being slapped on thickly - they have a tendency to clump in that case. Work patiently and add a couple of coats if you want deeper colour, and you'll have an amazingly intense finish. Pigment is great - I've sheered out the two swatches left and right so you can see how they behave both ways, but you get a lot of payoff from these. And indeed you'd want to, for €28 a go.
Now, the acid test, how do they wear, and for something so bling, is there fallout?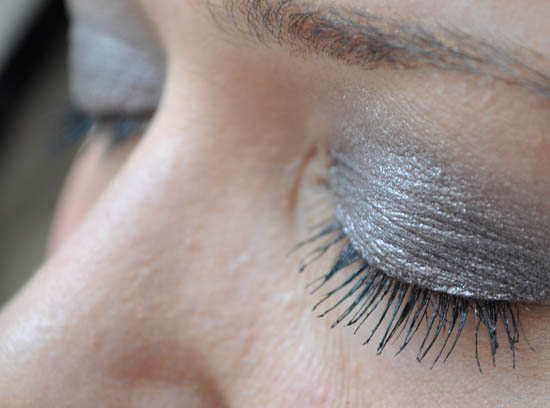 Continuing my run of not being able to take a decent shot of my eyes to save my life, here's Illusoire applied at 8.30am.  That's a couple of coats over a bare lid and very lightly blended above the crease with just some mascara (Benefit's They're Real) and yes, that is foundation in my brows. Scarlet. Curse you fault-seeking camera of shame.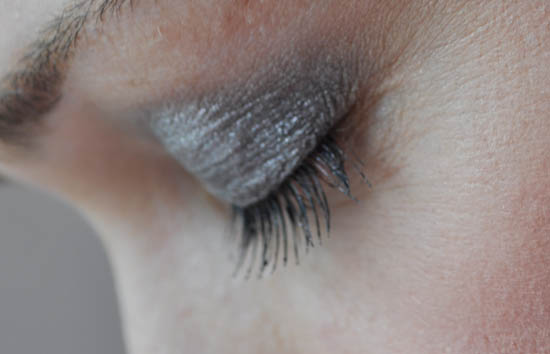 And here's how it looked again at 7pm, after what was a pretty fraght day. Not bad, eh? I've clearly been rubbing my eyes because the blending's gone up top but the intensity still remains - and not a sparkle on cheeks. Colour me impressed.
Advertised
While maybe a little OTT for day normally, I was attending meetings so reckoned it was a-OK. For night, these really come into their own and you'll have a lot of fun with 'em. Add extra intensity too with a blackened cream base pre-application - that's definitely my next trick.
All-in-all, I think that while Illusion D'Ombre are expensive, they deliver. Will you be picking any up come the 19th?