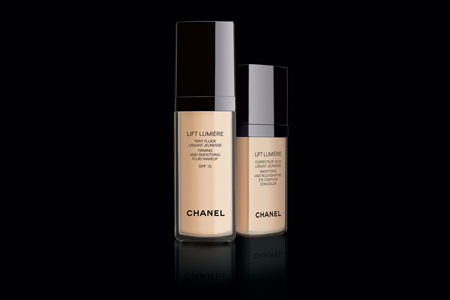 My skin likes anything it can drink in: heavy-duty moisturisers, oils and serums meant for women 40+ are all lapped up gratefully, so I thought new Chanel's Lift Lumiere foundation would probably go down well, too.
Yup, I was right. This is a product meant for the more mature amongst us - with lifting, smoothing and light-diffusing properties,  it's ideal for masking fine lines and less-than-firm features (there's also a clever companion lifting concealer, brilliant for under-eye bags and sags). But my 30-something skin got on great, and the shade I tried, 20 (clair) was a good match too - if perhaps just a teeny bit dark. Nothing, certainly, a bit of blending couldn't sort out, though. It lasts well all day with no afternoon flaking or tightness, a problem I've encountered with too many products.
Any downsides? Some may say price, as at €45.50, it's quite a bit more expensive than my usual MAC Studio Fix product. But if you've finally located the foundation that suits you, then to be honest, it's usually worth the splurge.  It also provides a little more coverage than I'd normally go for, and it's also slightly more matte than I'd generally pick, so I'll most likely reserve for winter wear, and switch to a lighter, more dewy product in summer.
Advertised
Overall - Lift Lumiere is a great product, and I'll definitely be finishing the bottle. Bravo, Chanel!