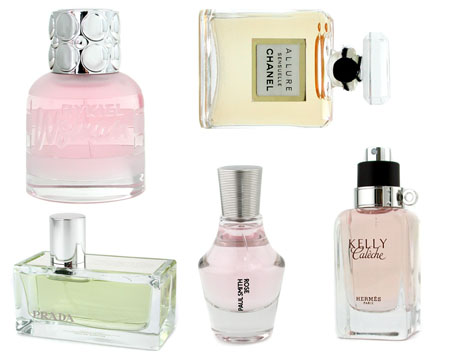 So, we dealt little sisters yesterday, and now it's the turn of our older siblings. Big sisters think they know it all, don't they? Tee hee! So it's nice to surprise them with something they perhaps wouldn't buy (or think of) for themselves. A little hint of sophistication is good, as is a dash of glamour. So with that in mind, these are our choices for your darling older sister.
Clockwise from bottom left: Prada eau de parfum, from €63.50; fashionista fave Sonia Rykiel Woman, €28.50; Chanel Allure Sensuelle, €80; Hermes' brand new fragrance, Kelly Caleche, from €66.50 and Paul Smith's latest floral, Rose, from €29.50.
Advertised
All are available at Strawberrynet, who are promising before Christmas delivery on all orders placed before the 7th.