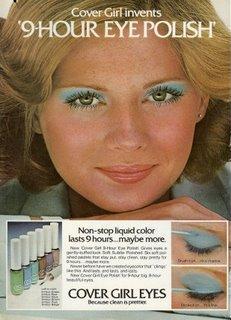 There was lots 'n' lots of blue eyeshadow in evidence on the runways of the Autumn/Winter 2008 shows, but is this a trend that we mere mortals can - or should even attempt to - recreate? No matter how professionally it's applied or blended, I for one am just incapable of wearing a full lid of blue shadow without looking like a '70s throwback... and not in an on-trend boho chic way.
Great for Abba party nights, just not so hot for Real Life.
So I go for the foolproof option when it comes to blue on the eyes, which by a happy coincidence is also the easy peasy option - liner. A slick of midnight blue liquid liner on the upper eyelid paired with a smudge of a soft pencil in true blue either across the inner rim of the lower eyelid or along the lower lashline and you're all set. I'm loving Clarin's Limited Edition Blue Shimmer Liner (it's a click pen dispenser with built-in tapered brush, so easy to use) and good old Barry M's Super Soft Eye Crayon in No. 4 for this, which make my hazel eyes look super green and the whites of my eyes look very sparkly indeed.
Advertised
And not a pair of bellbottoms in sight!