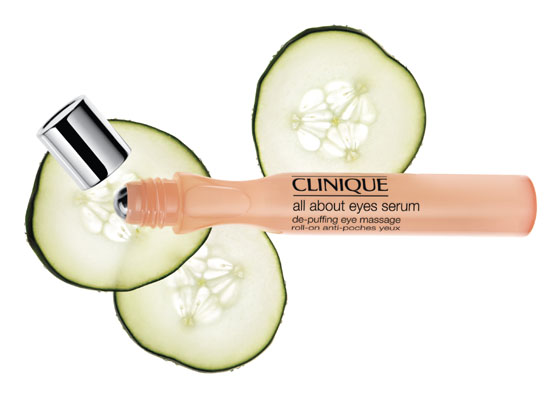 I love me a good cooling eye treatment, so Clinique's new All About Eyes Serum, €29, was always likely to float my boat. Even if its full name is a total mouthful. A slender orange tube topped with a metal roller-ball applicator, it contains caffeine, potent antioxidants and soothing botanicals and is a total cinch to use.
It's unscented, instantly cooling and refreshing, and was a total Godsend last Saturday morning after a heavy night out when I was trying to pull myself together for my first bout of circuit training.
Unfortunately, I fainted half way through the class but sure at least my eye area was looked after.
I've been using this for the last couple of weeks and, while I don't suffer very badly with puffiness around the eye area generally, it definitely does a number on any puffiness around tired peepers. There's a slight firming action and it also seems to be nicely hydrating to boot.
Advertised
Now, the blurb reckons that the serum also combats dark circles and brightens the area, but I haven't really noticed any of those benefits yet. You also need to give it a few minutes to be fully absorbed before applying make-up.
This is a keeper for me, and I can see it being a huge help when my hayfever acts up.
Find it on counter from June.