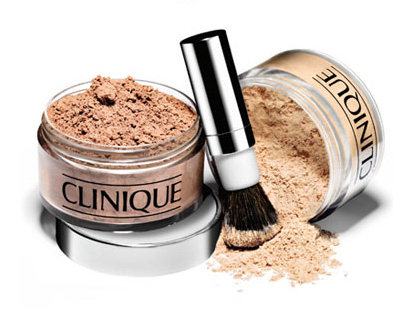 I've noticed a time or two that a lot of people have a fear of using powder over their foundation. I think that this may be a horrid hangover from a time when chalky pressed powder was the product of choice, and left you with a ghostly white, caked and flaky complexion. But gals, time (and formulations) have moved on, and powder is a very different beast these days. I wouldn't be without it and consider it a true staple. I favour loose powders over pressed, and always lightly apply it with a big brush as opposed to smearing it across my skin with a puff. A good translucent product won't change the colour of your foundation and will give it longevity too, because it will help to set it onto your skin.
Clinique agree with my powder related evangalizin' ways, and have even conducted a survey to boot. They've found that 1 in 3 women in the UK (and I can't imagine it's too different here) have never used powder, and like me, they know what you should be looking for - the powder you choose should feel like silk - it should be light and never gritty. It should match your skintone or it should be translucent - depending on the sort of coverage you like - and lastly, you need to know how much to use. A very small bit, is my recommendation. I like a product that comes in a pot, and I dip my brush in, and then tap off the excess. That's what I then apply to my face - a very very small amount, but that's really all that's needed.
Their Blended Face Powder (above), comes with a brush too, and is available in 4 shades to suit skintones from very fair to olive, and helps to minimise the appearance of pores. Interestingly, they recommend you use their 'rubdown' technique to apply it - "pour loose powder into palm of hand, rub palms together, then "wash" entire face with powder from hairline to chin. Avoid getting into eyes. Brush off excess with brush." Innovative, eh?
Advertised
The brush can also be carried in your bag, loaded with powder (yep, it comes with a cap) so that you can touch up on the go. And the price of this skin saviour? About €25+, is my estimate.