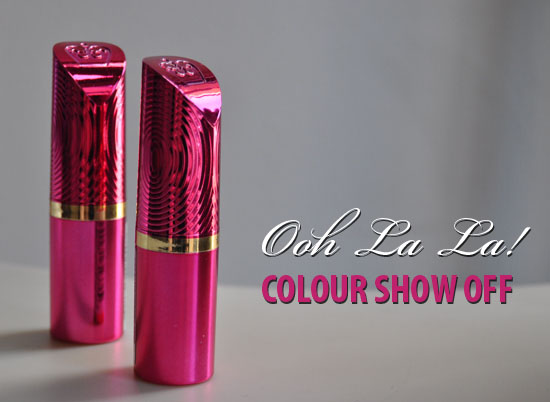 Being the magpie that I am, all Rimmel really need to do to sucker me in with the new Colour Show Off lipsticks was to wave the metallic pink and gold packaging at me. On the right side of kitsch, these look really pretty for starters, and for seconds, the fact the brand sent a red and a coral for testin' purposes helped a smidge too.
11 new shades in matte finishes with good coverage, a decent texture for the price and lots of pigment (yay! cheap mattes!) will launch on the 22nd of this month, and they'll cost a mere €7.22 a pop. Georgia May Jagger is the face of the line, and in one of the press shots we took a look at recently, she's rocking #230 Red Fever. Me? I got it and 030 Tell No One, a coral, to check out.
A pic of the two bullets is after the cut.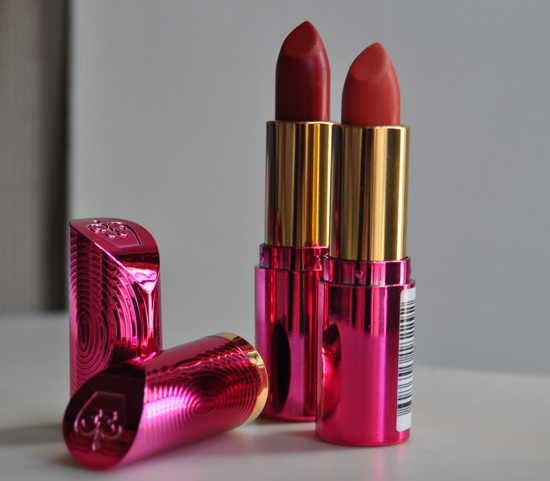 Advertised
Red Fever is the sort of red I like for day. It's not a true-blue red, and there is a brick-red tinge to it so it's not as in yer face as a full on scarlet. Tell No One is really nice on my fair skin and a great way to inexpensively try the trend for coral if you're unsure as to how the shade will work on you.
While Rimmel promises the inevitable million billion hour wear (ok, eight hours),  listen, this is lipstick. The clue is in the word 'lip'. You know, those things you move about a lot and eat and drink with. You won't get eight hours out of this stuff unless you're in a coma and fed through tubes. You better not be dribbling either.
Because the textures are matte, they are quite drying so I've been Nuxe Reve de Miel-ing a little before application, as otherwise my lips were flaking and sore come noon. It is chilly at the moment which isn't helping, but realistically, mattes - Mac's Ruby Woo coming immediately to mind - do dessicate lips and there's not much you can do about that (go for satin-finished or gloss-based products if it's a big issue) except nourish them with balm in between application.
That's not to besmirch these though, because for the price, and based on the two shades I tried, Colour Show Off lipsticks are a really decent bargain buy.