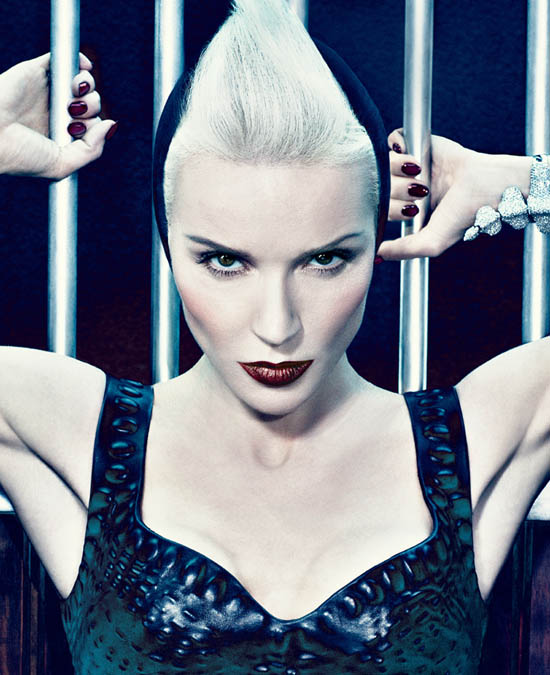 Next out of the traps from Mac is another 'sleb collaboration, this one with off-kilter fashionista Daphne Guinness, whose style Lady Gaga owes more than a little nod to. Guinness has already served as muse to Francois Nars  back in 2010 and in comparison her self-curated collection for Mac, launching in January 2012, is quite sedate.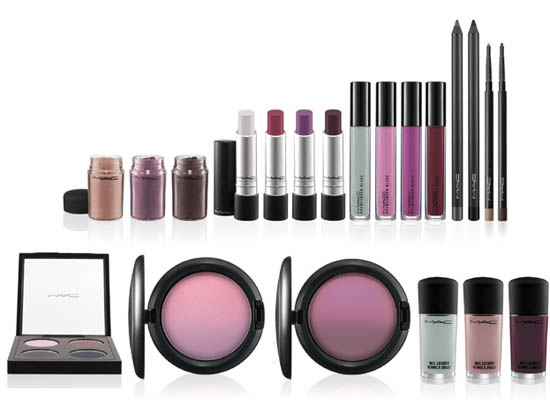 Perhaps they spent all the development money on the Gareth Pugh packaging but I'm surprised that this launch follows the black casing convention of the main line. Wot, no crackers two-tone hair-covered compacts!? No on-stilts lipsticks?  Bit gutted, frankly.  Shade-wise, it's a bit of an eye-opener too ... it's all, er, very wearable.
And lawks, that's just not something I thought I'd ever say of Daphne Guinness.
However - perhaps I shouldn't be one bit surprised. It strikes me that she's always out to do it differently, and she certainly has with this: I'd have expected something entirely different from her and what we get is a confection of pinks, pastels, sheer-to-medium finishes and all-in-all, a collection that ticks a lot of boxes for a lot of people. The reverse of Gareth Pugh, in fact.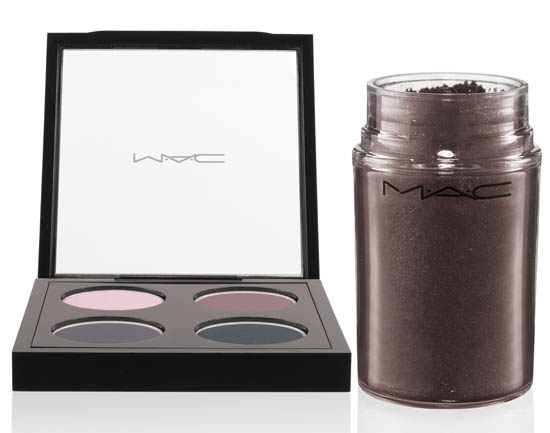 Lets check out some of the stand-out products: this is the shadow palette, it's limited edition and it's called the Interior Life Eye Quad. €47.50 bags you shades in Stratus, a light pink (matte), Interior Life, a mid-tone grey blue (veluxe pearl), Bruised Sky, dark lavendery grey (satin) and Heather Belles, a dark charcoal/carbon (satin). Beside it is one of three Pigments, €24.50 each. You're looking at Nebula, a frost finish, dark greyed brown with pearl. There's also Aurora, a pinked taupe (frost) and Circa Plum, a frosty dirty mid-tone lavender (frost). All are limited to this collection.
Advertised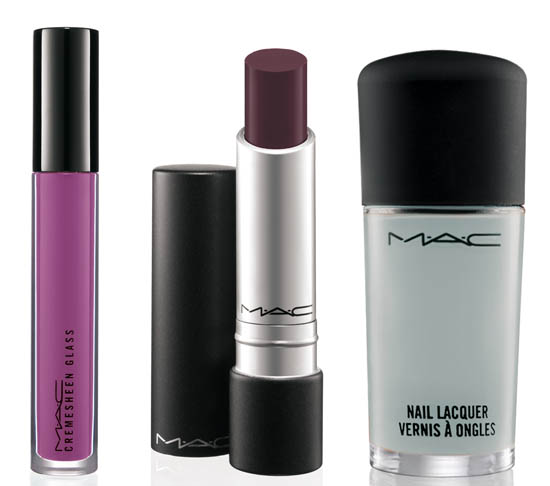 For lips there're four limited Cremesheen Glass'; above you can see Narcissis, €20, described as a 'dirty eggplant' shade. There are also four limited edition Pro Longwear Lipcremes in the collection. Approaching Storm, a deep rose, €20, is above and Warp Speed, a light silver, is an interesting shade. I'm really liking this lipstick formulation from Mac; it's great. The pic above also shows one of the three Nail Lacquers in the collection; this is Hyperion. It's a light grey blue green (creme), and it's €12.50.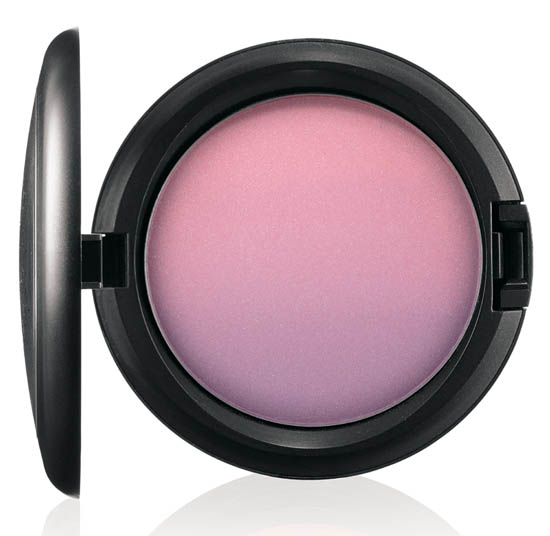 These ombre blushes are ones we've seen before from Mac and they're reappearing here as Blush Ombre in Azalea Blossom (above), a light cool pink and Vintage Grape, a mid-tone violet pink for €28 each. Again, limited, baby.
I have two products from the collection ahead of launch, Pro Longwear Lipcreme in Red Dwarf and Pigment in Aurora. Both of these are nice, no two ways about it. Pigment and Pro Pro Longwear Lipcreme are two quality Mac products and the shade duo is a wearable, decent pick - taupe and a berried red; who wouldn't like tip the nod to that? They're classic, they're wearable and they're decently priced. In particular you'll be all year getting through that pigment. But, yeah ... it's all a bit normal, isn't it? No makeup that's the equivalent of shoes like hooves, duo hair 'dos and dresses made out of swans here.
Advertised
All in all, I'm a little whelmed by Daphne Guinness for Mac. What about you? Anything leaping out at you from the lineup?