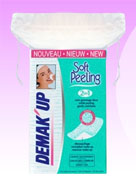 There's something about the name of this product that makes me a bit squeamish - it's the word peeling, for definite. I'm sort of imagining my skin peeling off me like a banana skin. Yuck! Perhaps it's not the best name for a product really - especially one you apply to your face.
Demak'up make all sorts of clever little cotton pads and wipes for makeup removal. Now, as I have avowed before, I go to Aldi for these boyos these days because you get about 400 of them for 50c. And I like a bargain.
Of course as per usual, the blurb makes it difficult for the product (which is basically a cotton pad) to live up to the advertising hype. And I of course bought a packet (€2.49 from the supermarket) to try out anyway.
Advertised
There's a smooth side to remove makeup with (using your regular cleansing gel or cream), and then you flip it over to reveal a slightly exfloiating side which has little blue scruffing things contained beneath a gauzy layer. This side cleans skin and removes dead skin cells. I'm using them at the moment to apply a Roc anti-blackhead lotion (more about which soon!) and they seem to be adding nicely to the results I'm achieving from that.
Soft Peeling pads are definitely gentle enough to use every day, so they'd be perfect for people with sensitive skin. They're a bit like Neutrogena's Pure Glow Cleansing Cushions - but without the lying. And I admire a committment from a cosmetics company to not lying to their potential customers.
I doubt these things are going to revolutionise your routine but if you use cotton pads to take off your makeup anyway then give them a go, you might see some additional benefits.