 Before we get into this, can I just take a second to encourage anyone struggling with a crappy bathroom storage situation to do something about it?
I polished up and sold the trio of seriously grody open shelving units that the previous tenants had left behind to get some cashola to put towards a mirrored Ikea beaut. It's possibly the single best decorating decision I've made in this flat to date.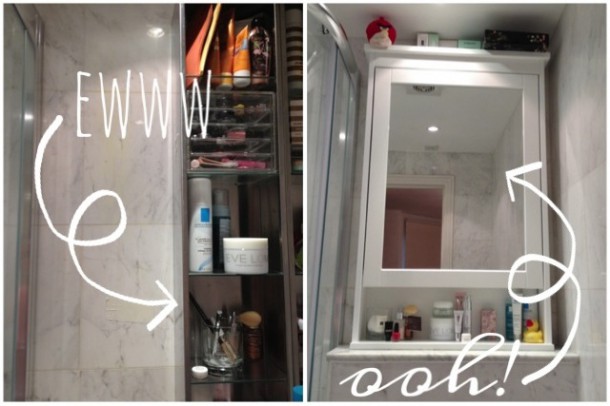 Anyway, I had cause to rifle through the cabinet in a panic this morning in search of some facial sunscreen to replace my trusty Peter Thomas Roth moisturiser with SPF30, which I have been using and loving for nearly a year to the day since picking it up in Boston last August.
Unfortunately it comes in an opaque airless pump dispenser, so I was caught unawares when it ran out completely at 7AM and since I'm using a resurfacing treatment at night, adequate daily sun protection is a must.
So I was overjoyed to unearth a couple of sachets of Dermalogica Age Smart Skin Perfect Primer with SPF30 (€39.99 for 22ml) that I'd tucked away a few months ago and promptly forgotten about.
Advertised

In addition to providing broad spectrum UVA and UVB protection thanks to titanium dioxide and zinc oxide, velvety silicones in the formula smooth away fine lines while pearl powder and minerals provide a neutral tint, brightening skin and enhancing luminosity. Oh yeah: and there are peptides and actives in the mix to help firm skin and shield from free radical damage.
It's a real multitasker, this, but even with so much going on it doesn't overwhelm my skin. While it looks worryingly beige out of the tube sachet - in fact, I nearly didn't use it for that reason! - thankfully that doesn't translate onto skin when applied. I couldn't see very much of its pearlescent effect once my full-coverage foundation went on - very nicely - but I do think there was a bit of a glow in evidence and it certainly neutralised oiliness and helped keep my make-up in place.
Not bad for an emergency find in the depths of the bathroom cabinet, eh?