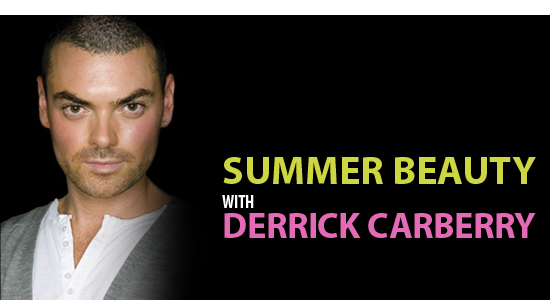 Makeup artist Derrick Carberry is just back from France where he oversaw the beautiful proceedings at TV3 presenter Sinead Desmond's wedding. Gadding about at glam soirees isn't all this fella does though, because in addition to making up the stars of the Irish firmament, he also runs courses to teach the rest of us how to go about getting gorgeous.
Currently, he's offering discounts of 20% as part of his summer specials initiative, including wedding makeup. Great for any bride who hasn't yet found the right man (or woman) for the job, Derrick will do a detailed consultation and wedding trial with you and on the big day will transform the wedding party - and of course, your good self.
You can also avail of 20% off his 'spring clean your makeup bag' and 'want to be a makeup artist' courses too. Interested? Head to www.derrickcarberry.com for more info, a sneaky look at his portfolio and contact details.
While we had Mr Carberry's attention we thought we'd nab him for a few questions on a pressing matter: summer beauty. Take it away, Derrick.
What's appropriate for summer makeup? Should you adjust colours, formulations and amounts?
Skin tone changes season-to-season, so in summer time we tend to be slightly darker skintone-wise - even if it means you're using tan or increasing its intensity. Always match your skintone exactly by applying your foundation on the jawline to make sure it blends with the skin on the face and neck - some people don't put tan on their faces, just on the neck, but I think it's a good idea to put a light covering of tan on the face so that if your make up does come off in hotter weather then its not going to be so obvious, because there is some colour under your base.
Using a foundation that has a yellow/golden base will help tone down any redness in your skin - try using lighter coverage foundation and working it in with a natural hair foundation brush to give a perfect finish. Use a yellow-based concealer if you need it on areas like the nose and cheeks, and use a more pink-based concealer under the eyes, applying small amounts at a time.
Tinted moisturisers are ideal for almost any skin type. They hydrate dry, mature skin while adding enough coverage for the average wearer. If skin is normal to combination, a tinted moisturiser will provide coverage and hydration without melting or running down the sides of the face. While oilier skin types need moisturiser, tinted products might not provide enough control or coverage for a full day out and about. Instead, oily skin types should stick with a light powder foundation.
Advertised
What's a makeup no-no during the summer?
Never over apply your products! Being heavy handed can mean products come off more easily especially in warmer weather. Apply smaller amounts, taking your time to work in your products, and never leave home without putting on your mascara. It really opens up the eyes and it's applied in seconds so if you're late for work, it takes no time at all.
Irish women are divils for colouring in their faces with foundation, so how do you get a natural-looking summer glow?
A natural summer glow is easy! Use a light weight foundation - something water based like MAC Face and Body - matched in perfectly with your skin tone, and then a sweep of highlighter on the cheek bones gives that hot summer glow look. I use Champagne Sheer Veil from Kohl (available at Brown Sugar salons), and then I contour the face with bronzer to really set off the features.
What are the hot summer beauty trends this year?
The most fun aspect of make up this summer is eye makeup. Gone are the boring browns and dreary neutrals - this season, eye makeup is bold and bright. Colours like bold teals, seductive violets, and sweet and chic greens are popping up all over.
The trend for blush is colourful, but sheer. Summer 2009 is about looking fresh and active. Choose colours like subtle, soft pinks and bright roses. Rather than focusing on the apple of the cheeks, the makeup looks from the spring and summer 2009 runways had them placed at the temple, sweeping upward into the hairline. This gives the face an instantly more youthful appearance.
What new products will you be picking up? Got any classic summer makeup faves?
Advertised
My favourite products this summer are MAC Face and Body foundation, Fame Blusher from Kohl cosmetics, Make up For Ever's mat bronzer, Benefit waterproof eyeliner in black, Champagne Sheer Veil Highlighter from Kohl, Givenchy Phenomen'eyes black mascara and Florabundance Lipglass by MAC.