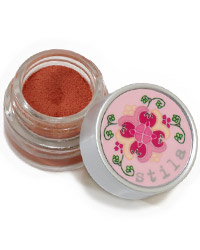 Cream blush is like crack. I got myself another recently - this time I went for a Stila Rouge Pot in Water Lily which is a browny-rose shade. I was disappointed with it - it's like a cross between Clinique's fantastically smooth and light Touch Blush, without the lovely lightness, and Maybelline's Dream Mouse Blush, without the nice colour.
I also have a bit of a problem with some of Stila's packaging (though the Rouge Pot itself is sweet). It was extremely fresh a few years ago but it looks hackneyed and tired now, especially the logo font and brown card usage. I know they make a commitment to being recycling friendly, but I do judge books by their covers and frankly, their covers put me off. Quite apart from all that - the product itself isn't great - application isn't as smooth as I'd like and the shade I chose looks nothing when on. It's probably too sheer for my preference actually and because of that I put more on, which didn't really work. It actually just looks sort of dirty - nicht so gut a look.
But all isn't lost folks, for I have found another couple of lovely cream blushes I'm dying to try out:
Advertised
Estee Lauder Minute Blush Creme Stick for Cheeks looks fab. It's in a stick as opposed to a pot or palette, so you really could achieve those Aunt Sally cheeks with ease. If you really wanted to, like. It comes in 4 shades and gives a sheer coverage that's easy to blend.

Not technically a cream blusher, but fabulous all the same, I'd love to get my hands on Prescriptives Limited-Edition Cheek Lacquer. It's more of a cheek tint and it provides a a sheer wash of berry for "a hint of color and a lot of chic". Goody, I'd like a lot of chic, please. It's easy to apply and it's oil free. And that'll be the only thing free about it. As that annoying girl in the bank ad says, Prescriptives (and braces) are "ching ching, lotta cash".