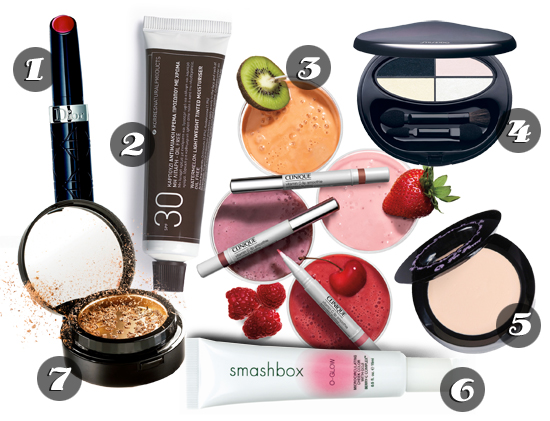 One of my favourite things about beauty bits is spotting trends and one that's gaining a lot of traction recently is for cosmetics that contain extra benefits, like moisturiser, SPF, antioxidants or anti-ageing ingredients. It makes sense: why shouldn't the things we use daily provide more than just a colour and camouflage function? Good news: now lots of them do.
1. THE POSH POUT ENHANCER
I've already raved about this lovely yoke and it's Rouge Dior Serum de Rouge, €32. It comes in eight shades and promises to do a little more than merely add shine and colour to your pucker: that's thanks to the fact it contains 20pc ingredients such as hyaluronic acid, mango butter and vitamin A. It's not just a worthy spend: this stuff looks fabulous on, and you'll find it at department stores.
2. THE FRIENDLY FOUNDATION
With watermelon extract, rich in naturally occurring vitamins, carbohydrates and amino acids, and antioxidant vanilla and curcuma longa, Korres Oil-free Watermelon Lightweight Tinted Moisturiser SPF 30, €22 at HQhair.com, seems more like something you'd eat. But in fact it's a light face base, and it's causing quite a stir on beauty blogs recently for its kind-to-skin properties and natural-looking coverage. If you're a fan of products free from mineral oils and silicones, this baby ticks both boxes.
3. THE GOOD FOR YOU GLOSS
Advertised
New from Clinique are their Vitamin C Lip Smoothie Antioxidant Lip Colour glosses, €19, at department stores and pharmacies. Packed full of vitamin C and pomegranate, both ingredients help to protect your pout against environmental aggressors like sun and wind. But there's an even better weapon contained inside too: acai berry. This little feller is a super-duper food that can work over time to reduce the effects of ageing on the lips, so if you've been troubled by a wrinkly pucker, then this is the product for you.
4. THE SKIN-FRIENDLY SHADOW
Imbued with skincare benefits, Shiseido's Silky Eyeshadow Quads, €37.15, come in loads of great shades that are silky, easily blended and pigment-rich. Their special 'multi-nutrient factor' helps to keep lids feeling conditioned, so this is a great pick for anyone with dry, easily irritated skin. At Arnotts and Brown Thomas.
5. THE KIND CONCEALER
Does your concealer contain ginseng, lavender, green tea and pomegranate? Nah, didn't think so, but Too Faced Herbal Eye Concealer, €19, does. Available in three shades, it's got all those goodies so that it can help to diminish eye bags, brighten dark circles and reduce puffiness. Phew. At department stores.
6. THE CARING CHEEK COLOUR
Science and skincare meet in Smashbox's innovative O-Glow cheek colour, €30. Capable of adapting to the precise shade of pink that'll suit your complexion thanks to fancy intuitive technology, it's good for skin too: goji berry-C complex and antioxidants like vitamin C, pomegranate seed oil and marine botanicals infuse skin with kindness. At Clerys and pharmacies.
Advertised
7. THE MOISTURISING MINERALS
Powder-based products can often be drying and irritating, especially on mature or dehydrated skin, but Pure Finish Mineral Powder Foundation SPF 20, €30, from Elizabeth Arden, is different. Coming in a hygienic 'shaver' dispenser, you just grind as much as you need for one application, which keeps the product fresh, and the minerals have been imbued with skincare benefits. Moisturising squalane and sea water minerals rich in calcium and magnesium hydrate and nourish your complexion. At department stores.