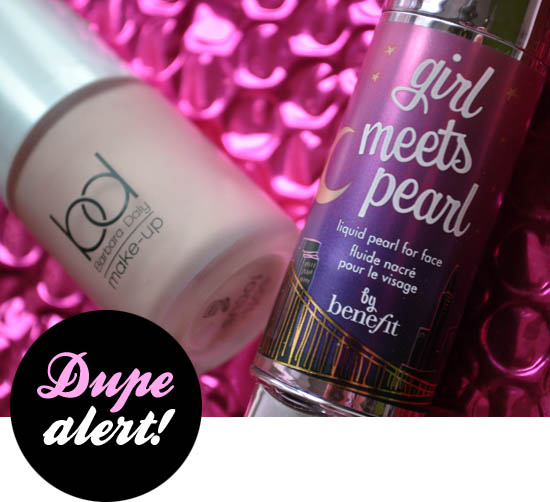 I followed through with my weekend plans and actually did make a start on spring cleaning my clutter at the weekend. Three bin bags to the charity shop later, two loads of crap out to the rubbish and my wardrobe was inexplicibly looking as rammed as ever (how? HOW!?) so I decided go give that up for the time being and tackle the beauty stash, which had apparently been breeding like rabbits since the last cull a year or so ago.
Now I know why they get the army into the Phoenix park when they need to address the auld deer problem. A clinical, detached eye is what's needed. Preferably one with wipe-clean combats, in my case. Things were so bad I had to get seriously ruthless and really, really be hard-hearted, ditching what I knew I wasn't going to use again.
Coming across one cream blusher with a mould bloom across its surface helped (yack!), and as I was sorting, I found a good few products I'd forgotten about, things I loved and wanted to revisit plus this little pair of liquid skin luminising beauties, a deadly couple of dupes if ever I saw 'em.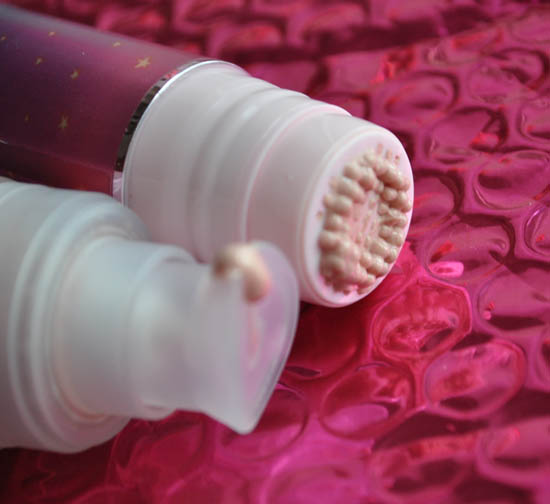 Both are pearlised, rose gold fluid illuminators you can mix into skincare or base or buff onto madeup skin for a final finish. Use across the tops of cheekbones, browbones, down the nose, on the cupids bow; all the areas you'd usually use a highlighter. The fact the formula of each is liquid means ease of use across decollete and collar bones too. The shimmery finish is beautiful on both and the shade is warm and flattering to cool skintones.
Advertised
Barbara Daly Soft Focus Highlighter is about €10 or thereabouts at selected Tesco stores (check this post, it's our most recent source of stockist info for the brand but I bought this one at the Celbridge branch which is generally fairly well stocked) and Benefit Girl Meets Pearl is a much spendier €34.50, so props to Babs on price already.
The Barbara Daly product contains 15ml and the Benefit product contains 12ml. Babs scores again. The most obvious difference here is packaging and naturally, Benefit scores bigtime for its lovely metallic pink and purple affair. Babs' kinda drab bottle can't really compete but for ease of use, lots will prefer her pump over Benefit's twist-up dispenser mechanism.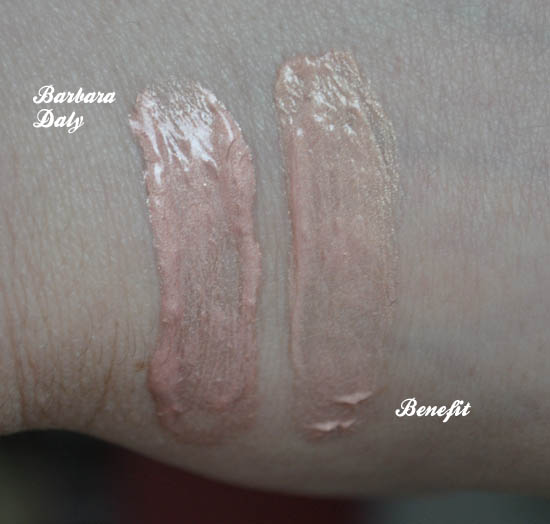 So, how do they compare in side by side swatchin'?  Barbara Daly's Soft Focus Highlighter is a bit pinker when thickly swatched and Benefit's Girl Meets Pearl is a little more peachy. In use though, when they're blended out and lightly layered, there is absolutely nothing in it.
If a liquid rose gold highlighter is on your gotta have it list for 2012 and you want to save a really big chunk of cash too, then it's a no brainer. Barbara Daly wins this battle of the dupes hands-down.