 As we saw in our cosmetic crystal ball, metallics are having a moment and by spring, they'll be bigger and better than ever.  Puzzlingly, one of the prettiest and most flattering to wear tends to be tricky to find on the beauty counters. Rose Gold has the added bonus of suiting most skin types - but especially a typical Celtic complexion. Just like coral, it's super flattering on pale skintones and creates a prettified, natural glow.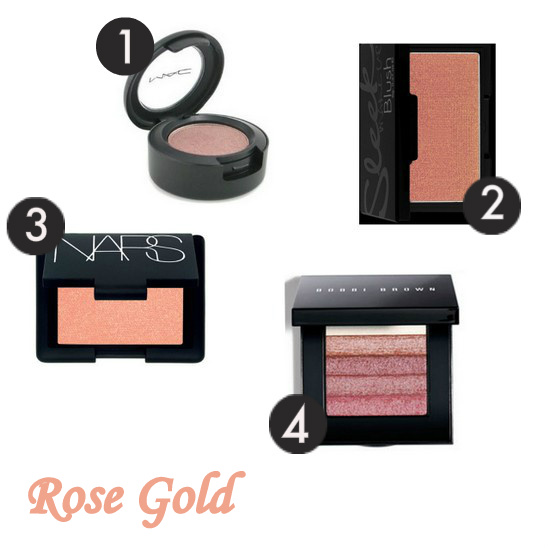 We'll definitely be seeing more of this gorgeous metal – just this lunchtime I clapped eyes on a stunning rose gold piece from Estee Lauder which we'll hopefully be sneak-peeking for you soon – but in the meantime, here's a round-up of the best of what's already out there. Get ready to shine!
The Classics
ONE All That Glitters eyeshadow from MAC is described as beige with gold pearl, but it has a definite rose gold bent. If you want something a tad rosier, Expensive Pink would also fit the bill.
TWO Sleek's Rose Gold is a cult classic for a reason: this great value blush is super soft, highly pigmented and stunning on the skin.  In fact it's often dubbed a dupe for…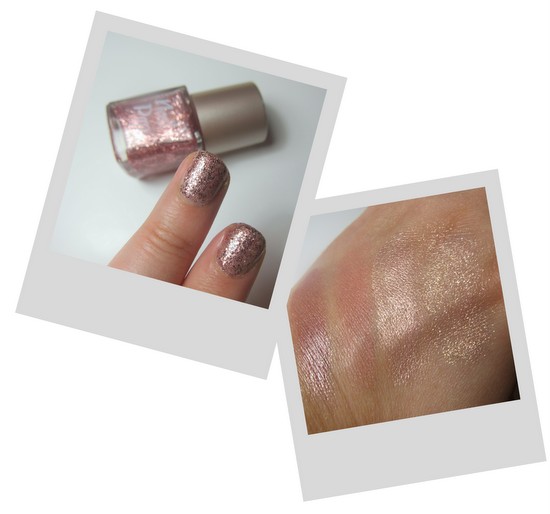 Swatches L-R: Maybelline, Deborah Milano, Barbara Daly, Lancome
THREE …NARS Orgasm, which needs no introduction at this stage. Irish ladies love it for its shimmery and ultra-flattering ways. See also: Orgasm Illuminator and Super Orgasm.
FOUR Bobbi's Rose Gold Shimmer Brick lights up the pastiest winter complexions with a warm, rose gold metallic sheen.
Advertised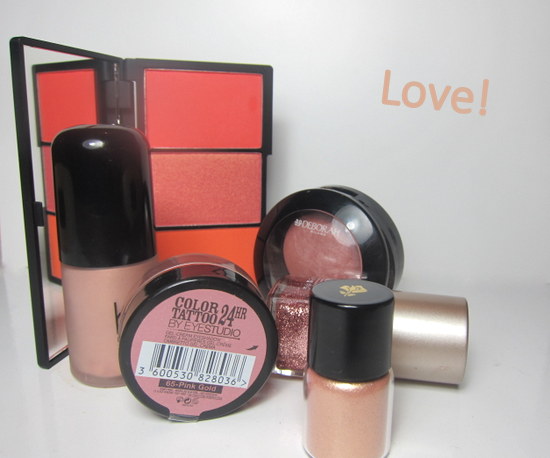 Favourites From My Stash
ONE The middle shade in this Sleek Blush by 3 palette in Lace is very reminiscent of Rose Gold, but has the added bonus of being accompanied by two more gorgeous shades! Mine came courtesy of Cloud 10 Beauty.
TWO If you spot Barbara Daly's Soft Focus Highlighter in your local Tesco, better snap that baby up! It's  beautifully flattering and a brilliant dupe for this much more expensive product.
THREE The most recent addition to the line, Maybelline's Colour Tattoo in Pink Gold has also fast become my fave. It's gorgeous on its own or as a base under powder shadows – especially…
FOUR …this gorgeous rose gold shade of Lancome's Ombre Les Pailettes aux Yeux – a fab wee jar of sparkle that came out with the Christmas collection.
FIVE  Away furren? This gorgeous baked Deborah Milano blusher in Rosa Pesca was part of my holiday haul – it's well worth keeping an eye out for.
SIX I'm still in love with this rose gold glitter polish from Look Magazine's surprisingly good makeup line  – I picked this up in the UK, but do check out these similar suggestions from Lynnie.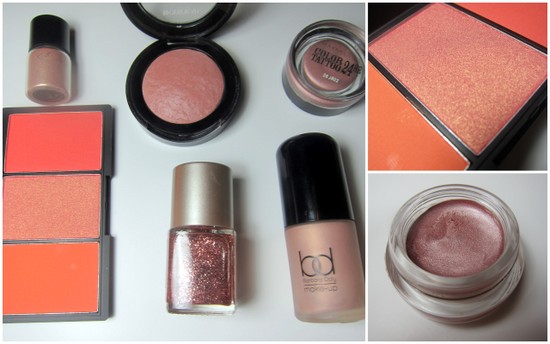 Oh, and not pictured but very much deserving of a mention? The beautiful Rose Bud Glow Stick from Isadora. See it in action here.
Advertised
Will you be giving any of these a whirl? And do you have any rose gold favourites you can recommend? Ah go on now…